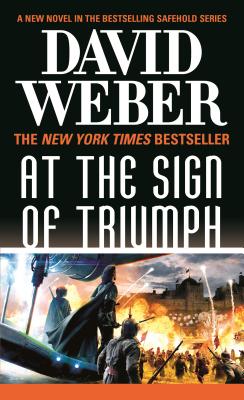 At the Sign of Triumph (Mass Market)
A Novel in the Safehold Series (#9)
Tor Science Fiction, 9780765364630, 1040pp.
Publication Date: October 31, 2017
Other Editions of This Title:
Digital Audiobook (11/7/2016)
Hardcover (11/8/2016)
CD-Audio (11/22/2016)
* Individual store prices may vary.
Description
At the Sign of Triumph: David Weber's New York Times-bestselling Safehold series begun with Off Armageddon Reef, By Schism Rent Asunder, By Heresies Distressed, A Mighty Fortress and How Firm a Foundation.
The Church of God Awaiting's triumph over Charis was inevitable. Despite its prosperity, the Charis was a single, small island realm. It boasted less than two percent of the total population of Safehold. How could it possibly resist total destruction? The Church had every reason to be confident of a swift, crushing victory, an object lesson to other rebels.
But Charis had something far more powerful than simple numbers. It had a king, a crown prince, and a navy prepared to die where they stood in its defense. It had the Brethren of Saint Zherneau, who knew the truth about Safehold's founding. Who knew that the Church of God Awaiting was a monstrous lie. And it had Merlin Athrawes, last survivor of long-vanished Earth. Merlin, the cybernetic avatar of a woman dead over a thousand years, who was determined to break the Church's grip upon the human mind and soul.
So after eight years of war, it is not Charis but the Church that stands upon the brink of defeat. But the Church still commands immense resources, and — faced with the unthinkable — it's decided that it, too, must embrace the forbidden technology which has carried Charis so far.
In the end, it is simple, for only one can survive. The lines are drawn, the navies and armies have been raised, and all of Safehold is poised for the final battle between those who believe in freedom and those who would crush it forever.
Safehold Series
1. Off Armageddon Reef
2. By Schism Rent Asunder
3. By Heresies Distressed
4. A Mighty Fortress
5. How Firm A Foundation
6. Midst Toil and Tribulation
7. Like A Mighty Army
8. Hell's Foundations Quiver
9. At the Sign of Triumph
About the Author
David Weber is a science fiction phenomenon. His popular Honor Harrington and Honorverse novels—including Mission of Honor, At All Costs, and Torch of Freedom—are New York Times bestsellers and can't come out fast enough for his devoted readers. He is also the author of the Safehold series, including Off Armageddon Reef, By Schism Rent Asunder, By Heresies Distressed and A Mighty Fortress. His other top-selling science fiction novels include Out of the Dark, the Dahak books and the Multiverse books, written with Linda Evans. He has also created an epic SF adventure series in collaboration with John Ringo, including We Few. His novels have regularly been Main Selections of the Science Fiction Book Club. Weber has a bachelor's degree from Warren Wilson College, and attended graduate school in history at Appalachian State University. He lives in South Carolina.
Praise For At the Sign of Triumph: A Novel in the Safehold Series (#9)…
"A nice blend of historical combat and survival fiction....Very satisfying.... Safehold is in store for some interesting times in the coming years." —SFRevu on At the Sign of Triumph
"Vast, complex, intricate, subtle, and unlaydownable. This looks like the start of the biggest thing in science fiction since Isaac Asimov's Foundation series." —Dave Duncan on the Safehold series
"A complex and fascinating epic about change, identity, and the nature of faith." —Publishers Weekly on Like a Mighty Army

"A superb cast of characters and plenty of action... This fine book gives new luster to Weber's reputation and new pleasure to his fans." —Booklist (starred review) on By Schism Rent Asunder
"Weber brings the political maneuvering, past and future technologies, and vigorous protagonists together for a cohesive, engrossing whole." —Publishers Weekly (starred review) on Off Armageddon Reef
"Effortlessly exceeds the magnificence of its predecessor...I cannot emphasize how much I want to read the next chapter in the Safehold saga." —Fantasy Book Critic on By Schism Rent Asunder