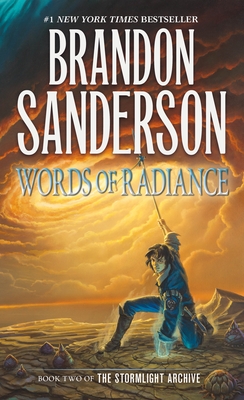 Words of Radiance (Mass Market Paperbound)
Tor Books, 9780765365286, 1328pp.
Publication Date: March 3, 2015
Description
Brandon Sanderson's epic Stormlight Archive continues with his #1 "New York Times" bestselling "Words of Radiance." Six years ago, the Assassin in White killed the Alethi king, and now he's murdering rulers all over Roshar; among his prime targets is Highprince Dalinar. Kaladin is in command of the royal bodyguards, a controversial post for his low status, and must protect the king and Dalinar, while secretly mastering remarkable new powers linked to his honorspren, Syl. Shallan bears the burden of preventing the return of the Voidbringers and the civilization-ending Desolation that follows. The Shattered Plains hold the answer, where the Parshendi are convinced by their war leader to risk everything on a desperate gamble with the very supernatural forces they once fled.
About the Author
Brandon Sanderson grew up in Lincoln, Nebraska. He lives in Utah with his wife and children and teaches creative writing at Brigham Young University. He is the author of such bestsellers as the Mistborn(R) trilogy and its sequels, The Alloy of Law, Shadows of Self, and The Bands of Mourning; the Stormlight Archive novels The Way of Kings and Words of Radiance; and other novels, including The Rithmatist and Steelheart. In 2013, he won a Hugo Award for Best Novella for The Emperor's Soul, set in the world of his acclaimed first novel, Elantris. Additionally, he was chosen to complete Robert Jordan's Wheel of Time(R) sequence. For behind-the-scenes information on all of Brandon Sanderson's books, visit brandonsanderson.com.
Advertisement