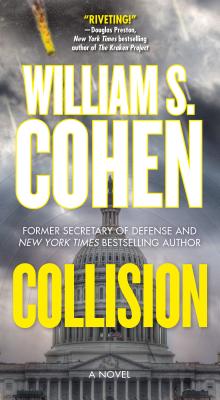 Collision (Mass Market)
A Novel (Sean Falcone #2)
Forge Books, 9780765366092, 432pp.
Publication Date: November 1, 2016
Other Editions of This Title:
Hardcover (6/2/2015)
Hardcover, Large Print (11/11/2015)
* Individual store prices may vary.
Description
Former Secretary of Defense William S. Cohen provides a Washington insider point of view in Collision, a gripping political thriller about the dangers of mining an asteroid.

Two gunmen open fire at an elite Washington law firm. One flees the scene with the laptop computer he and his partner have come to steal. The other plummets ten stories to his death, pushed by Sean Falcone, former National Security Advisor to the president of the United States.

When the firm's managing partner learns of the laptop's disappearance, he orders Falcone to quietly investigate. If word gets out that a computer containing confidential client information is missing, the firm could lose clients, staff, even partners. However, the future of the firm isn't the only thing at stake. The stolen laptop contains vital information concerning an American billionaire, his secret Russian partner, and their attempt to mine an asteroid. This is a dangerous endeavor; even the slightest change in orbit might put the asteroid on a collision course with Earth. NASA and the White House are plunged into a race to prevent the destruction of all humankind.

This edition of the book is the deluxe, tall rack mass market paperback.
About the Author
WILLIAM S. COHEN served as Secretary of Defense under President Bill Clinton from 1997-2001. A Republican, Cohen spent twenty-four years in office as a Congressperson and a Senator before his noteworthy appointment to the cabinet of a Democratic president. During his tenure as the 20th U.S. defense minister, Cohen directed America's military actions in Iraq and Kosovo. In 2001, he founded the Cohen Group, a global business consulting firm. He has written for The Washington Post, the Financial Times, The New York Times, and The Wall Street Journal and is the author of the novel Dragon Fire. William S. Cohen lives with his wife in the Washington, D.C. area.
Praise For Collision: A Novel (Sean Falcone #2)…
"The authenticity of the narrative seems indisputable. . . . This is an insider political thriller that will appeal to readers eager for a believable mix of fact and fiction." —Booklist

"Absolutely thrilling from start to finish. The action weaves themes that are both timely and thought-provoking, all leading to a cataclysmic bang." —Steve Berry, New York Times bestselling author of the Cotton Malone series

"What sets this story apart is Cohen's deep and intimate knowledge of Washington, international affairs, and the dark, underground workings of government. The story he tells is so believable and so chilling that it will keep you turning the pages into the wee hours." —Douglas Preston, New York Times bestselling author of The Kraken Project

"A story of international high stakes politics, deal making, spies, and assassins with nothing less than the future of the entire planet at stake . . . written by the ultimate insider. An important tale." —David Hagberg, New York Times bestselling author of The Fourth Horseman
or
Not Currently Available for Direct Purchase