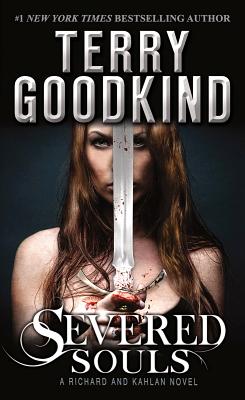 Severed Souls
A Richard and Kahlan Novel
Mass Market

* Individual store prices may vary.
Other Editions of This Title:
Digital Audiobook (8/4/2014)
Hardcover (8/5/2014)
MP3 CD (6/30/2015)
Compact Disc (6/30/2015)
MP3 CD (8/5/2014)
Compact Disc (8/5/2014)
Compact Disc (8/5/2014)
Leather (8/5/2014)
Description
From Terry Goodkind, author of the Sword of Truth series, comes Severed Souls, a New York Times best selling novel of Richard Rahl, Kahlan Amnell, and their world.

From the far reaches of the D'Haran Empire, Bishop Hannis Arc and the ancient Emperor Sulachan lead a vast horde of Shun-Tuk and other depraved "half-people" into the Empire's heart, raising an army of the dead in order to threaten the world of the living. Meanwhile, far from home, Richard Rahl and Kahlan Amnell must defend themselves and their followers from a series of terrifying threats, despite a magical sickness that depletes their strength and which, if not cured, will take their lives...sooner rather than later.

"Richard saw the point of a sword blade sticking out from between the man's shoulder blades. He spun back toward Richard after throwing the woman out of the opening, ready to attack. It seemed impossible, but the man looked unaffected by the blade that had impaled him through the chest.

It was then, in the weak light from the fire pit off to the side, that Richard got his first good look at the killer.

Three knives were buried up to their brass cross-guards in the man's chest. Only the handles were showing. Richard saw, too, the broken end of a sword blade jutting out from the center of the man's chest. The point of that same blade stuck out from the man's back.

Richard recognized the knife handles. All three were the style carried by the men of the First File.

He looked from those blades that should have killed the big man, up into his face. That was when he realized the true horror of the situation, and the reason for the unbearable stench of death."



Edit
Tor Fantasy, 9780765366214, 640pp.
Publication Date: June 30, 2015
About the Author
Terry Goodkind (1948-2020) is a #1 New York Times bestselling author. His books include the multi-volume epic fantasy Sword of Truth series -- beginning with Wizard's First Rule, the basis for the television show Legend of the Seeker -- and related series Richard and Kahlan and The Nicci Chronicles.

Goodkind was born and raised in Omaha, Nebraska, where he also attended art school. Alongside a career in wildlife art, he was also a cabinetmaker and a violin maker, and did restoration work on rare and exotic artifacts from around the world. In the 1990s he relocated to Nevada, where, when not writing novels, he was a racing-car enthusiast.