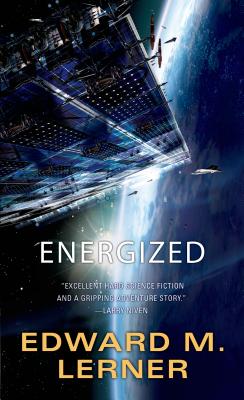 Energized (Paperback)
Tor Science Fiction, 9780765366481, 384pp.
Publication Date: September 30, 2014
* Individual store prices may vary.
Description
Energized -- a cautionary science-based thriller by Edward M. Lerner, the acclaimed coauthor of Betrayer of Worlds
No one expected the oil to last forever. How right they were….
A geopolitical miscalculation tainted the world's major oil fields with radioactivity and plunged the Middle East into chaos. Any oil that remains usable is more prized than ever. No one can build solar farms, wind farms, and electric cars quickly enough to cope. The few countries still able to export oil and natural gas—Russia chief among them—have a stranglehold on the world economy.
And then, from the darkness of space, came Phoebe. Rather than divert the onrushing asteroid, America captured it in Earth orbit.
Solar power satellites—cheaply mass-produced in orbit with resources mined from the new moon to beam vast amounts of power to the ground—offer America its last, best hope of avoiding servitude and economic ruin.
As though building miles-across structures in space isn't challenging enough, special interests, from technophobes to eco-extremists to radio astronomers, want to stop the project. And the remaining petro powers will do anything to protect their newfound dominance of world affairs.
NASA engineer Marcus Judson is determined to make the powersat demonstration project a success. And he will—even though nothing in his job description mentions combating an international cabal, or going into space to do it.
About the Author
Edward M. Lerner worked in high tech for thirty years, as everything from engineer to senior vice president, for much of that time writing science fiction as a hobby. Since 2004 he has written full-time, and his books run the gamut from technothrillers, like Small Miracles, to traditional SF, like his InterstellarNet series, to, with Larry Niven, the grand space epic Fleet of Worlds series of Ringworld companion novels.   Ed's short fiction has appeared in anthologies, collections, and many of the usual science fiction magazines. He also writes the occasional nonfiction article, on topics as varied as asteroid deflection, privacy (or lack thereof) in the Internet age, and the role of communications in SF.
Praise For Energized…
"Edward M. Lerner gives us a fascinating view of how awesome these threats could soon become." —Vernor Vinge, Hugo Award-winning author of A Fire Upon the Deep
"The age of spiritual machines is almost upon us, and Edward M. Lerner is our advance scout. He's already been where the rest of us will soon be heading and gives us fascinating, compelling, exciting glimpses of what lies ahead. A terrific book by a terrific author." —Robert J. Sawyer, Hugo Award-winning author of Rollback
or
Not Currently Available for Direct Purchase