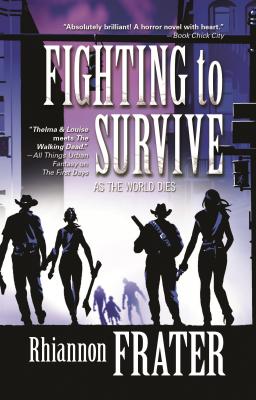 Fighting to Survive (Mass Market Paperbound)
Tor Books, 9780765366832, 436pp.
Publication Date: January 29, 2013
* Individual store prices may vary.
or
Not Currently Available for Direct Purchase
Description
It's time to clear the hotel.
The fort has grown crowded as survivors of the zombie apocalypse have found safety between its walls. Winter is coming; soon it will be too cold to live in tents and other makeshift shelters. The leaders of the survivors-Katie, Jenni, Juan, Travis, and Nerit-decide it's time for an assault on the zombie-occupied hotel that looms over the town square.
A pitched battle in the banquet room is the start of a harrowing, room-by-room struggle from Reception to roof. As the sun sets, the people of Ashley Oaks gather in the hotel's rooftop ballroom and gazebo to celebrate their survival. Gazing out over the beauty of the surrounding Texas countryside, it's hard to believe that death and danger lurk around every corner.
The fort's search and rescue teams have attracted unwanted attention from bandits who see the fort as competition for food . . . and as a ready source of women. The first attacks are minor, but everyone knows there is worse to come.
And beyond the fort's walls, the zombies shamble, moaning, eyes fastened hungrily upon the living.
Picking up where "The First Days" ends, "Fighting to Survive" continues the As the World Dies series and features the further zombie-killing, civilization-saving adventures of a pair of sexy, kick butt heroines and the men who love them.
About the Author
Rhiannon Frater is the author of The First Days: As the World Dies and two sequels, Fighting to Survive and Siege. Originally self-published, this award-winning, critically-acclaimed trilogy has been substantially revised for the Tor editions. Frater has written several other novels and been active in the Goth and horror communities in Texas, around the US, and online. Rhiannon Frater and her husband live in Austin, TX.
Praise For Fighting to Survive…
"Frater's novel explicitly draws from Romero's works while developing optimistic themes untapped by the pessimistic filmmaker, embracing the possibility of creation even in the face of the end of the world as we know it.
—Publishers Weekly on The First Days

"Trust me when I say, do not start this book if you can't read it non-stop. You won't want to put it down; it's just so damn gripping. Even if you aren't a fan of zombies, you need to pick up this series. It's brilliantly written and truly one of the most engaging series I've ever read!"
—Wicked Little Pixie

"Thelma and Louise meets The Walking Dead."
—All Things Urban Fantasy on The First Days

"Absolutely brilliant! A horror novel with heart."
—Book Chick City

"A heart-pounding, gut-wrenching, emotional, stunningly-written book that you will not want to miss!"
—The Bookish Brunette

"A wonderful read. Frater excels at character development by creating and expanding a diverse cast of supporting characters. Readers looking for some downright unforgettable heroines at the end of the world should look no further.  Exceptional."
—Explorations 

"Sure to send chills down the spine of any horror fan, as well as the many people who love zombie novels, movies, and culture!"
—Hellnotes

"Frater is a fresh voice with an original take on what the world would look like after a zombie plague. Her survivor community is raw and honest, populated with smart, resourceful people who somehow managed to escape the horde, but internal divisions and outside threats begin to unravel the tenuous grasp they have to survive. Tough, spunky characters, a zombie mythos that is captivating, internal problems and even a smidge of romance! Can't beat that!"
—Debbie's Book Bag

"Katie and Jenni once again prove how strong and powerful they are. Fighting to Survive is suspenseful, emotional, and fascinating.  It blends humor with horror, and has a way of gripping the reader right from the beginning with its great characterization and interesting plot.—Curling Up by the Fire

"One of the best horror stories I've read. The characters are strong, well-drawn and honest. A compelling story in a world gone mad. Like Horror? This is classic apocalypse worth collecting. Enjoy."
—The Nameless Zine

"If you like horror, zombies and characters that will permeate your heart, you must read this."
—Smash Attack Reads

"Fighting to Survive had something for everyone. Love, Death, Sex, Murder, Mystery and lots of Zombie carnage. I highly recommend picking this up."
—Blood, Sweat, and Books

"There was a ball in the pit of my stomach the whole time I read this book, which admittedly was very fast for me because I could. Not. Stop. Seriously! You need this zombie epicness in your life!"
—Book Loving Mom
Advertisement