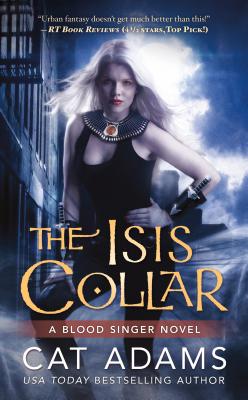 The Isis Collar (Mass Market Paperbound)
Tor Books, 9780765367150, 368pp.
Publication Date: February 26, 2013
* Individual store prices may vary.
or
Not Currently Available for Direct Purchase
Description
Celia Graves was once an ordinary human, but those days are long gone. Now she strives to maintain her sanity and her soul while juggling both vampire abilities and the powers of a Siren.
Warned of a magical "bomb" at a local elementary school, Celia forces an evacuation. Oddly, the explosion seems to have no effect, puzzling both Celia and the FBI. Two weeks later, a strangely persistent bruise on Celia's leg turns out to be the first sign of a magical zombie plague.
Finding the source of the plague isn't Celia's only concern. Her alcoholic mother has broken out of prison on the Sirens' island; her little sister's ghost has possessed a young girl; and one of Celia's boyfriends, a powerful mage, has disappeared.
Cat Adams delivers another page-turner Blood Singer novel with The Isis Collar.
About the Author
Cat Adams is the author of three previous Blood Singer urban fantasy novels: Blood Song, Siren Song, and Demon Song. Adams is the joint pen-name of C.T. Adams and Cathy Clamp, who live in a small town deep in the heart of Texas. They are USA Today bestselling authors with their Thrall series, which begins with Touch of Evil, and their critically-acclaimed Sazi series, which begins with Hunter's Moon.
Praise For The Isis Collar…
Praise for The Isis Collar
"Adams takes creepy to a whole new level with this intense and enthralling adventure. Celia's relationships, romantic or not, continue to force her to grow in ways she never expected."
—RT Book Reviews, 4 ½ stars, Top Pick!

"Fast and fun reading, with enough complexity in plot and characters to keep readers engaged from book to book."
—Booklist

"The romance is tantalizing. The novel ends with an exciting climax."
—SFRevu

"Celia is a brilliant heroine; a fighter through and through.  The love triangle is an interesting but subtle one, giving us just a taste of romance to get our hearts fluttering before our adrenaline spikes again."
—Supernatural Snark

Praise for the Blood Singer series
"If you haven't started the Blood Singer Series…what the hell are you waiting for? Do it! You won't be disappointed!"
—Wicked Little Pixie

"Cat Adams is a visionary author, creating new worlds that are both strong and vividly drawn. Adventure and excitement at its best."
—Yasmine Galenorn, New York Times bestselling author of the Otherworld series

"How many ways must I say how awesome this series is before everyone believes me? Suspense, drama, action and even a little romance thrown in just to spice it up a bit."
—Literaturely Speaking and TeensReadToo (Gold Star award) on Demon Song

"Siren Song is packed with fast and fun fights that had adrenaline slamming through my system."
—All Things Urban Fantasy

"This series just keeps getting better, maintaining a delicate balance between urban fantasy and paranormal romance. The emotional components are just as strong as the action sequences, set against an increasingly interesting world."
—Publishers Weekly on Demon Song

"Entertainment ignited!"
—RT Book Reviews, 4 ½ stars, Top Pick! on Siren Song

"Blood Song is a terrific story with a unique and well-drawn heroine. Combines a unique story, terrific characters and enough action for any fantasy fan."
—FreshFiction on Blood Song

"Adams does an outstanding job of telling a tale about a very strong woman put into an impossible situation. This story grips you by the throat and doesn't let up until the very last page."
—ParaNormal Romance Reviews on Blood Song

"Adams manages to not only keep the pages turning in an action-packed story that never lets up, but she also creates characters that you care about. Urban Fantasy seems to be all about strong kick-butt women standing alone against a mighty foe. But Celia isn't alone. She's got friends, family, and coworkers who are her support network and they all have strengths, weaknesses, and problems that we, the readers, can relate to."
—SF Revu on Demon Song
"UF doesn't get much better than this!"
—RT Book Reviews, 4 ½ stars, Top Pick!
Advertisement