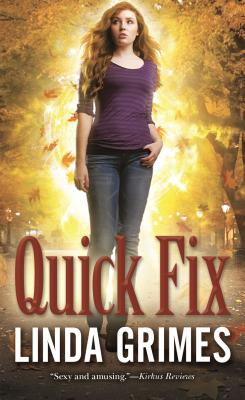 Quick Fix (Ciel Halligan #2) (Mass Market)
Tor Books, 9780765368560, 336pp.
Publication Date: March 31, 2015
Other Editions of This Title:
Digital Audiobook (10/24/2013)
Paperback (8/20/2013)
* Individual store prices may vary.
Description
Quick Fix is the second installment in Linda Grimes's original urban fantasy series starring human chameleon Ciel Halligan.
Ciel Halligan, an aura adaptor with a chameleon-like ability to step into the lives of her clients and fix their problems for them—as them—is working a job at the National Zoo with her boyfriend, Billy, and his ten-year-old sister, Molly. It's supposed to be a quick fix, giving her time to decide if it's wise to pursue the romantic relationship her charming scoundrel of a best friend wants, or if she should give Mark, the CIA spook she's crushed on since hormones first rattled her pubescent brain, a chance to step up to the plate.
Molly has already begun to show signs of being an adaptor herself. She's young for it, but she's always been precocious, so it's not impossible. What is impossible is her taking on the form of the baby orangutan she touches—adaptors can only project human auras. Until now, apparently. Worse, Molly is stuck in ape form. She can't change herself back.
Escaping from the zoo with their new baby orang, Ciel and Billy head for New York City and the only person they know can help: Ciel's brother James, a non-adaptor scientist who's determined to crack the aura adaptor genetic code. But when Billy winds up in jail, accused of attempted murder, Ciel begins to suspect Molly's unusual adapting ability is more than just a fluke. Who's been experimenting on Molly, and what do they hope to gain? And will Ciel survive to find out?
About the Author
LINDA GRIMES is the author of In a Fix and its sequel Quick Fix. A former English teacher and ex-actress, Grimes now channels her love of words and drama into writing. She grew up in Texas and currently resides in northern Virginia with her husband.
Praise For Quick Fix (Ciel Halligan #2)…
"A fast-paced, sexy romp with characters as original as its intriguing premise!" —Diana Gabaldon, New York Times bestselling author of Outlander on In a Fix
"In this sparkling series opener, Ciel Halligan is not a shape-shifter, but she does have a genetic quirk that allows her to look like someone else by changing her aura. [A] wisecracking, whirlwind romp of a romantic urban fantasy adventure." —Publishers Weekly on In a Fix
"Linda Grimes's fast paced supernatural debut is fresh, fun, and sexy, and heroine Ciel Halligan faces both the outlandish and the deadly with a perfect balance of equanimity, irreverence, and nerve. I can't wait to see where her wild adventures lead her next!" —Vicki Pettersson, New York Times bestselling author of The Signs of the Zodiac series on In a Fix
or
Not Currently Available for Direct Purchase