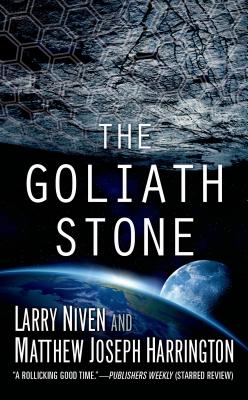 The Goliath Stone
Paperback

* Individual store prices may vary.
Other Editions of This Title:
Hardcover (6/25/2013)
MP3 CD (9/17/2013)
Compact Disc (9/17/2013)
MP3 CD (6/16/2015)
Description
The Goliath Stone is a visionary new tale from Larry Niven and Matthew Joseph Harrington.
Doctor Toby Glyer has effected miracle cures with the use of nanotechnology. But Glyer's controversial nanites are more than just the latest technological advance, they are a new form of life—and they have more uses than just medical. Glyer's nanites also have the potential to make everyone on Earth rich from the wealth of asteroids.
Twenty-five years ago, the Briareus mission took nanomachinery out to divert an Earth-crossing asteroid and bring it back to be mined, only to drop out of contact as soon as it reached its target. The project was shut down and the technology was forcibly suppressed.
Now, a much, much larger asteroid is on a collision course with Earth—and the Briareus nanites may be responsible. While the government scrambles to find a solution, Glyer knows that their only hope of avoiding Armageddon lies in the nanites themselves. On the run, Glyer must track down his old partner, William Connors, and find a way to make contact with their wayward children.
As every parent learns, when you produce a new thinking being, the plans it makes are not necessarily your plans. But with a two-hundred-gigaton asteroid that rivals the rock that felled the dinosaurs hurtling toward Earth, Glyer and Connors don't have time to argue. Will Glyer's nanites be Earth's salvation or destruction?
Praise For The Goliath Stone…
"Who knew nanotechnology could be this much fun? The Goliath Stone is a fast read, filled with fascinating characters and mind-bending concepts. I should have worn a crash helmet." —Larry Bond, New York Times bestselling author of Exit Plan
"The Goliath Stone takes a giant step beyond Lucifer's Hammer into a future so brilliantly rendered that it feels shockingly real. This stunning book is Niven at the absolute top of his game, a sure-fire award-winner and fan pleaser. First-class reading pleasure." —Whitley Strieber, New York Times bestselling author of The Grays
"Niven is a galaxy-class storyteller." —Time Magaine
Tor Science Fiction, 9780765368898, 384pp.
Publication Date: June 3, 2014
About the Author
Larry Niven is the award-winning author of the Ringworld series, along with many other science fiction masterpieces and fantasy including the Magic Goes Away series. His Beowulf's Children, co-authored with Jerry Pournelle and Steven Barnes, was a New York Times bestseller. He has received the Nebula Award, five Hugos, four Locus Awards, two Ditmars, the Prometheus, and the Robert A. Heinlein Award, among other honors. He lives in Chatsworth, California.

MATTHEW JOSEPH HARRINGTON is the author of Soul Survivor. He is currently living with fantasy artist Valerie Anne Shoemaker and four cats in San Jose, California.