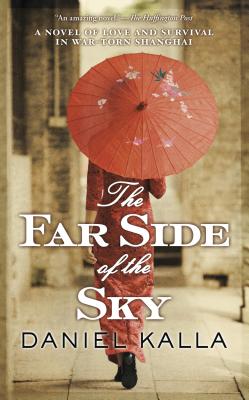 The Far Side of the Sky (Mass Market)
A Novel of Love and Survival in War-Torn Shanghai (Shanghai Series #1)
Forge Books, 9780765368904, 528pp.
Publication Date: July 30, 2013
Other Editions of This Title:
Paperback (7/30/2013)
Hardcover (6/5/2012)
Paperback (1/27/2015)
* Individual store prices may vary.
Description
Weaving together intrigue, medical drama, and romance, The Far Side of the Sky by Daniel Kalla,brings to life an extraordinary and little-known chapter of the Second World War. Stirring and fast-paced, the novel is a sweeping account of a world in tumult and a moving saga about courage in the darkest of times.
November 9, 1938—Kristallnacht. The Nazis unleash a night of terror upon German and Austrian Jews. Franz Adler, a widowed Jewish surgeon, experiences firsthand the wave of violence sweeping Vienna when his beloved younger brother is lynched. Desperate to find sanctuary for his young daughter, Franz hears whispers of Jews fleeing to distant Shanghai in the Far East.
After a harrowing escape from Europe, the Adlers land in Shanghai to find it besieged by the rampaging Japanese army. But the cosmopolitan city—the "Paris of the East"—still represents the last haven for thousands of Jews fleeing the Third Reich.
Franz meets Soon Yi "Sunny" Mah at the refugee hospital where they both volunteer. Half-Chinese and half-American, the compassionate and headstrong young nurse is an outcast in her own culture. Recognizing her ability, Franz agrees to mentor Sunny in surgery.
After the attack on Pearl Harbor, tensions soar. With Japanese soldiers lurking on every corner, the threat of starvation, disease, and internment hangs over the Adlers. So does the menace from the Nazis who refuse to let go of the Jewish "escapees." Franz is torn between ensuring his family's security and following his heart.
About the Author
Daniel Kalla is the international bestselling author of Pandemic, Resistance, Rage Therapy, Blood Lies, Cold Plague, and Of Flesh and Blood. His books have been translated into eleven languages. Two novels have been optioned for film. Kalla practices emergency medicine in Vancouver, British Columbia, where he lives with his family.
Praise For The Far Side of the Sky: A Novel of Love and Survival in War-Torn Shanghai (Shanghai Series #1)…
"Combining his medical background with meticulous research, Kalla has written the best sort of historical fiction, in which individual lives are shaken by the tectonic forces of history—and then miraculously reconstructed." —David Layton, author of The Bird Factory and Motion Sickness
"Kalla's surgeon-steady hand deftly keeps this story moving forward. Readers are sure to develop a genuine interest in the characters' fates." —The Vancouver Sun
"A definite page-turner." —Quill & Quire
"Storytelling, pure and simple." —National Post
"The Far Side of the Sky…sweep[s] the reader along for the ride." —The Globe and Mail (Toronto)
"In The Far Side of the Sky, a refugee doctor, war-torn Shanghai, and Eichmann's monstrous bureaucracy collide with surgical precision. Only a gurney will keep you from finishing this novel's many scenes of triage--both in the operating room and in matters of the heart. Kalla's characters mend both body and soul." —Daniel Levin, author of The Last Ember
or
Not Currently Available for Direct Purchase