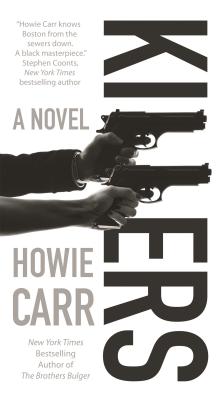 Killers (Mass Market)
A Novel
Forge Books, 9780765369680, 400pp.
Publication Date: November 1, 2016
Other Editions of This Title:
Hardcover (9/15/2015)
Hardcover, Large Print (1/6/2016)
* Individual store prices may vary.
Description
Killers is a thrilling ride through the dark underbelly of Boston crime and politics that could only have been written by Howie Carr. At one point the infamous Whitey Bulger put out a contract Carr, a newspaper columnist... and later called him a defense witness during Bulger's 2013 murder trial.
Now in jail, Whitey Bulger is gone from Boston, but Bench McCarthy is here to take his place.
McCarthy is a thug's thug, a hitman, an underworld jack-of-all-trades. He runs his own mob out of Winter Hill in Somerville while handling "wet work" for Sally Curto, a half-demented mob boss.
After years of gangland peace, Bench and Curto find themselves clay pigeons for unknown hit crews coming at them from every direction. The motives are as murky as the hitmen themselves, but all roads seem to lead to the State House, where corrupt pols are battling over a bill to legalize new casinos that will generate billions in revenue.
To stay alive and put an end to the uprising, Bench must enlist the help of Jack Reilly, a dodgy ex-cop turned private investigator. Bench doesn't trust Reilly since they started out on opposite sides of the law, but when the hunter becomes the hunted, he's left with few options.
This edition of the book is the deluxe, tall rack mass market paperback.
About the Author
Howie Carr is a columnist for the Boston Herald and author of the novel Hard Knocks, The Brothers Bulger, which spent eleven weeks on the New York Times bestseller list, and the New York Times bestseller Hitman: The Untold Story of Johnny Martorano, Whitey Bulger's Enforcer and the Most Feared Gangster in the Underworld. Carr hosts a daily four hour radio talk show that is syndicated throughout New England. Carr has won a National Magazine Award, and in 2008 he was elected to the National Radio Hall of Fame. Carr lives in suburban Boston.
Praise For Killers: A Novel…
"[A] bad cop tale from the king of Boston bullet letters—mind-charging Howie Carr! Read it now!" —James Ellroy, bestselling author of the L.A. Quartet
"Carr knows Boston from the sewers down. A black masterpiece." —Stephen Coonts, New York Times bestselling author
Praise for the Novels of Howie Carr:
"A must read from start to finish!" —Col. David Hunt, New York Times bestselling co-author of Terror Red, on Killers
"A knock-'em-down, drag-'em-out, put-two-in-the-head page-turner by a man who knows the power-that-be on the hill and the killers-that-are on the streets. Killers is a killer! Don't miss it!"—William Martin, New York Times bestselling author of The Lincoln Letter
"Loaded with intrigue, treachery, and a wealth of secrets . . . Howie Carr hits a grand slam." —Steve Berry, New York Times bestselling author of The Patriot Threat, on Hard Knocks
"Colorfully corrupt characters and hard-charging storytelling." —Publishers Weekly on Hard Knocks
or
Not Currently Available for Direct Purchase