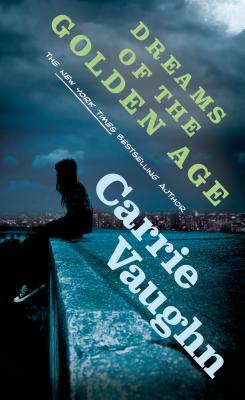 Dreams of the Golden Age (Mass Market)
Tor Fantasy, 9780765370105, 352pp.
Publication Date: November 25, 2014
Other Editions of This Title:
Hardcover (1/7/2014)
* Individual store prices may vary.
Description
Dreams of the Golden Age is the stunning sequel to author Carrie Vaughn's groundbreaking superhero novel, After the Golden Age
Like every teen, Anna has secrets. Unlike every teen, Anna has a telepath for a father and Commerce City's most powerful businessperson for a mother. She's also the granddaughter of the city's two most famous superheroes, the former leaders of the legendary Olympiad, and the company car drops her off at the gate of her exclusive high school every morning. Privacy is one luxury she doesn't have.
Hiding her burgeoning superpowers from her parents is hard enough; how's she supposed to keep them from finding out that her friends have powers, too? Or that she and the others are meeting late at night, honing their skills and dreaming of becoming Commerce City's next great team of masked vigilantes?
Like every mother, Celia worries about her daughter. Unlike every mother, Celia has the means to send Anna to the best schools and keep a close watch on her, every second of every day. At least Celia doesn't have to worry about Anna becoming a target for every gang with masks and an agenda, like Celia was at Anna's age.
As far as Celia knows, Anna isn't anything other than a normal teen. Still, just in case, Celia has secretly awarded scholarships at Anna's private high school to the descendants of the city's other superpowered humans. Maybe, just maybe, these teens could one day fill the gap left by the dissolution of The Olympiad....
About the Author
Carrie Vaughn is best known for her New York Times bestselling series of novels about a werewolf named Kitty who hosts a talk radio show for the supernaturally disadvantaged. Her novels include a near-Earth space opera, Martians Abroad, from Tor Books, and the post-apocalyptic murder mysteries Bannerless and The Wild Dead. She's written several other contemporary fantasy and young adult novels, as well as upwards of 80 short stories, two of which have been finalists for the Hugo Award. She's a contributor to the Wild Cards series of shared world superhero books edited by George R. R. Martin and a graduate of the Odyssey Fantasy Writing Workshop. An Air Force brat, she survived her nomadic childhood and managed to put down roots in Boulder, Colorado.
Praise For Dreams of the Golden Age…
"More than a superhero story, this is a tale of finding your true self and realizing that good and evil often come in various shades." —RT Book Reviews, 4 ½ stars, a Top Pick! on After the Golden Age
"Vaughn has written such simple and elegant prose to tell a story of superheroes who are just like regular folk….I enjoyed every minute of being glued to it." —Sacramento Book Review on After the Golden Age
"A strong outing...well worth the quick, intense read." —Library Journal on After the Golden Age
"A thrilling yarn.... Good old-fashioned comic book fun." —Locus on After the Golden Age
"[A] warm homage to and deconstruction of classic comic books.... For readers who admire Lois Lane more than Superman." —Kirkus Reviews on After the Golden Age
or
Not Currently Available for Direct Purchase