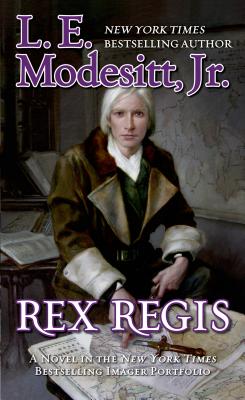 Rex Regis (Mass Market)
The Eighth Book of the Imager Portfolio
Tor Fantasy, 9780765370907, 640pp.
Publication Date: December 30, 2014
Other Editions of This Title:
MP3 CD (1/7/2014)
Compact Disc (1/7/2014)
Hardcover (1/7/2014)
Compact Disc (1/7/2014)
* Individual store prices may vary.
Description
The Imager Porfolio is a bestselling and innovative epic fantasy series from L. E. Modesitt, Jr. that RT Book Reviews says "shines with engrossing characters, terrific plotting, and realistic world-building." Continue the journey with Rex Regis.
Only the land of Khel remains uncommitted to Bhayar's rule. Their decision could mean a lasting peace, or more conflict across an already war-ravaged realm.
While the conqueror of Bovaria awaits emissaries to arrive with news of Khel's decision, other weighty matters occupy Quaeryt—not the least of which is the fulfillment of his dream to create the world's first Imager academy, where the magical abilities of these powerful casters may be honed, managed, and put to the service of the common good.
But before that dream may be realized, or Khel's fateful choice made known, the spectre of high treason threatens to unravel everything Quaeryt has achieved.
The Imager Portfolio
#1 Imager / #2 Imager's Challenge / #3 Imager's Intrigue / #4 Scholar / #5 Princeps / #6 Imager's Battalion / #7 Antiagon Fire / #8 Rex Regis / #9 Madness in Solidar / #10 Treachery's Tools / #11 Assassin's Price
Other series by this author:
The Saga of Recluce
The Corean Chronicles
The Spellsong Cycle
The Ghost Books
The Ecolitan Matter
About the Author
L. E. Modesitt, Jr., is the bestselling author of the fantasy series The Saga of Recluce, Corean Chronicles, and the Imager Portfolio. His science fiction includes Adiamante, the Ecolitan novels, the Forever Hero Trilogy, and Archform: Beauty. Besides a writer, Modesitt has been a U.S. Navy pilot, a director of research for a political campaign, legislative assistant and staff director for a U.S. Congressman, Director of Legislation and Congressional Relations for the U.S. Environmental Protection Agency, a consultant on environmental, regulatory, and communications issues, and a college lecturer. He lives in Cedar City, Utah.
Praise For Rex Regis: The Eighth Book of the Imager Portfolio…
"Overall, workmanlike rather than spectacular, as Modesitt illustrates honor, dedication and estimable personal values through the words and deeds of his leading characters.
Fans won't be disappointed." —Kirkus Reviews
or
Not Currently Available for Direct Purchase