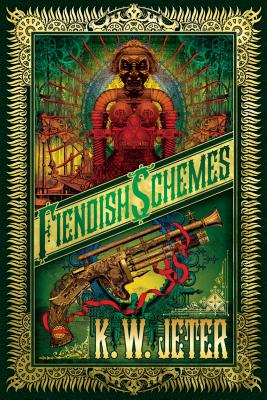 Fiendish Schemes
Hardcover

* Individual store prices may vary.
Other Editions of This Title:
Paperback (10/15/2013)
Description
In 1986 K. W. Jeter coined the term "steampunk," applying it to his first Victorian-era science fiction alternate-history adventure. At last he has returned with "Fiendish Schemes, " a tale of George Dower, son of the inventor of "Infernal Devices," who has been in new self-imposed exile accumulating debts.
The world Dower left when he went into hiding was significantly simpler than the new, steam-powered Victorian London, a mad whirl of civilization filled with gadgets and gears in the least expected places. After accepting congratulations for his late father's grandest invention a walking, steam-powered lighthouse Dower is enticed by the prospect of financial gain into a web of intrigue with ominously mysterious players who have nefarious plans of which he can only guess.
If he can locate and make his father's "Vox Universalis" work as it was intended, his future, he is promised, is assured. But his efforts are confounded by the strange Vicar Stonebrake, who promises him aid, but is more interested in converting sentient whales to Christianity and making money than in helping George. Drugged, arrested, and interrogated by men, women, and the steam-powered Prime Minister, Dower is trapped in a maelstrom of secrets, corruption, and schemes that threaten to drown him in the chaos of this mad new world.
Praise For Fiendish Schemes…
For Fiendish Schemes:
"In Fiendish Schemes, K. W. Jeter returns to the Steampunk world he left twenty-five years ago with guns blazing—very strange guns, to be sure.  To my mind this is Jeter's best book, with more than enough cool Steampunk ingredients to make me jealous.  I wish I could simply steal half a dozen and put them into my pocket for later use, but I'll have to be satisfied with merely reading—and rereading—the book. You should too."
—James P. Blaylock, author of the Langdon St. Ives novels
 "Gorgeous grotesquerie -- Fellini by way of Tim Burton!" — Tim Powers, author of Hide Me Among the Graves
"Welcome to K.W. Jeter's London, a London where technology is out of control and ruled by the upper class. Part commentary for the 21st century, part journey of redemption (but entirely steampunk), Fiendish Schemes takes us into the next chapter of George Dower's presently dismal life until an unwanted, unwelcome associate from his past (literally) resurfaces and sets him on a dangerous plot that could manipulate the financial future of the world, and—in the process—net him a bob or two. Jeter is a modern Arthur Conan Doyle as his sequel to Infernal Devices reads as a Sherlock Holmes adventure. Each turn of the page unfolds the mystery; and the deeper you descend with Dower, the deeper you are drawn into Jeter's work."
— Tee Morris, author of The Ministry of Peculiar Occurrences series
For Infernal Devices:
"Jeter is an exhilarating writer who always seems to have another rabbit to pull out of his hat." —New York Times Book Review on Infernal Devices
"A well-written novel that should be added to any collection. If you have patrons with an interest in steampunk, this is essential." —Library Journal
"This is the real thing–a mad inventor, curious coins, murky London alleys and windblown Scottish Isles. . .  A wild and extravagant plot that turns up new mysteries with each succeeding page" —James P. Blaylock, World Fantasy Award winning author
"Goddamn, what a book. This is like H.G. Wells with H.P. Lovecraft's descriptions of darkness run through the mind of Sherlock Holmes writer Arthur Conan Doyle. It's about as screwy as it gets, complete steampunkery with a duo who are scamming their way across the land through an entirely different set of devices. Must-read . . . Pure joy. I couldn't set it down." —SFBook.com
"A delicious—and quite insane—mad romp through the gas-lit streets of London. Absolute must-read!" —SF Revu
"At times Jeter amd quote insane romp through the gas-lit streets of London. Absolute must-read!" —Bearcave.com
Tor Books, 9780765374028, 352pp.
Publication Date: October 15, 2013
About the Author
K. W. JETER, known as the "godfather of steampunk" for first inventing the term over 20 years ago, is the author of Infernal Devices, Morlock Night, the cyberpunk novel Dr. Adder, noir sequels to Blade Runner as well as dark fantasy and other visionary science fiction. A native of California, he currently lives in Ecuador.
or
Not Currently Available for Direct Purchase