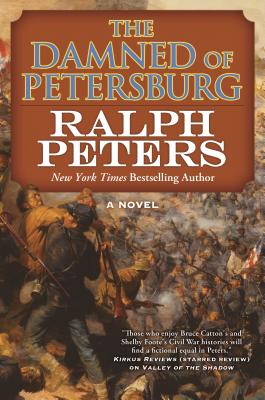 The Damned of Petersburg
A Novel (The Battle Hymn Cycle #4)
Paperback

* Individual store prices may vary.
Other Editions of This Title:
Digital Audiobook (6/27/2016)
Mass Market (7/30/2019)
Compact Disc (6/28/2016)
MP3 CD (6/28/2016)
Compact Disc (6/28/2016)
Hardcover (6/28/2016)
Description
New York Times bestselling author Ralph Peters returns with the fourth installment in his Boyd Award-winning series on the Civil War, The Damned of Petersburg.
Glory turned grim, and warfare changed forever. From the butchery of The Crater, where stunning success collapsed into a massacre, through near-constant battles fought by heat-stricken soldiers, to the crucial election of 1864, The Damned of Petersburg resurrects the American Civil War's hard reality, as plumes and sabers gave way to miles of trenches.
Amid the slaughter of those fateful months, fabled leaders—Grant and Lee, Winfield Scott Hancock and A. P. Hill—turned for help to rising heroes, Confederates "Little Billy" Mahone and Wade Hampton, last of the cavaliers, or Union warriors such as tragedy-stricken Francis Channing Barlow and the fearless Nelson Miles, a general at twenty-four.
Nor does Ralph Peters forget the men in the ranks, the common soldiers who paid the price for the blunders of commanders who'd never know their names. In desperate battles now forgotten, such as Deep Bottom, Globe Tavern, and Reams Station, soldiers on both sides were pushed to the last human limits—but fought on as their superiors struggled to master a terrible new age of warfare.
The Damned of Petersburg revives heroes aplenty—enriching readers' knowledge of America's most terrible war—but above all, this novel is a tribute to the endurance and courage of the American soldier, North or South.
Battle Hymn Cycle
Cain at Gettysburg
Hell or Richmond
Valley of the Shadow
The Damned of Petersburg
Judgment at Appomattox
Praise For The Damned of Petersburg: A Novel (The Battle Hymn Cycle #4)…
"Rich in detail and rendered with a literary flair . . . Magnificent." –Kirkus Reviews, starred review
"Another brilliant addition to the best series of Civil War novels ever written." —William Martin
"No one can come close to Peters' unique combination of passion and pride and tragedy. I predict that The Damned of Petersburg will be a classic that people will read for the next fifty years." —Thomas Fleming
"[An] excellent historical novel . . . a must-read for Civil War novice and aficionado alike." —John Horn
Forge Books, 9780765374073, 448pp.
Publication Date: July 3, 2017
About the Author
Ralph Peters is a retired Army lieutenant colonel and former enlisted man, a controversial strategist and veteran of the intelligence world; a bestselling, prize-winning novelist; a journalist who has covered multiple conflicts and appears frequently in the broadcast media; and a lifelong traveler with experience in over seventy countries on six continents. A widely read columnist, Ralph Peters' journalism has appeared in dozens of newspapers, magazines and web-zines, including The New York Post, The Wall Street Journal, USA Today, the Washington Post, Newsweek, Harpers, and Armchair General Magazine. His books include The Officers' Club, The War After Armageddon, Endless War, and Red Army. Peters grew up in Schuylkill County, Pennsylvania, and studied writing at Pennsylvania State University. He lives and writes in the Washington, D.C. area.
or
Not Currently Available for Direct Purchase