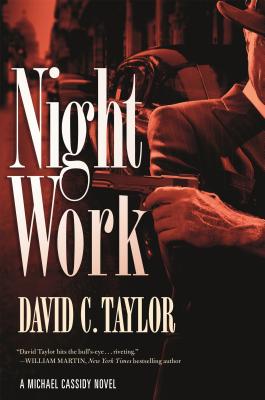 Night Work
A Michael Cassidy Novel
Hardcover

* Individual store prices may vary.
Other Editions of This Title:
Digital Audiobook (4/4/2016)
Paperback (7/11/2017)
Description
Night Work: the second book in David C. Taylor's transporting historical crime fiction series.
Michael Cassidy, a New York cop plagued by dreams that sometimes come true, escorts a prisoner accused of murder to Havana on the cusp of Fidel Castro's successful revolution against the Batista dictatorship. After delivering the man to La Cabaña prison and rescuing Dylan McCue, a Russian KGB agent and his now-married former lover, from her scheduled execution, Cassidy returns to New York and retreats into the comforts of alcohol and sex.
The arrival of Fidel Castro in New York three months later complicates the cop's life once more. Cassidy's investigation of a young man's murder in Central Park is interrupted when he is assigned to Castro's protective detail.
Castro has many enemies. American mobsters who have been run out of Havana, businessmen who worry about their investments in Cuba, and members of Batista's secret police all want him dead. Cassidy is already investigating one murder. Can he prevent another?
Praise For Night Work: A Michael Cassidy Novel…
"Taylor hits the bull's-eye .. . riveting." —William Martin, New York Times bestselling author
Praise for Night Life
"A hair-raising, heart-stopping bullet-train of a novel with action and atmosphere to burn." —Douglas Preston, New York Times bestselling author of The Kraken Project
"A gripping and evocative thriller." —Joseph Finder, New York Times bestselling author of The Fixer
"With high-tension suspense,ingenious plotting, and characters you really care about, Night Life is an honest-to-God, up-all-night, one-sitting read." —David Hagberg, New York Times bestselling author of End Game
"Smart, capable,honest and all cop, NYPD Detective Michael Cassidy is a cross between Jack Reacher and Philip Marlow, only tougher." —Stephen Coonts, New York Times bestselling author of The Art of War
"The suspense mounts with the body count. Readers will want to see more of the distinctive Cassidy, whose wealthy background as the son of a Broadway producer puts him at odds with his fellow cops." —Publishers Weekly
"Set against the backdrop of the Cold War and the rising power of Sen. Joseph McCarthy, this debut novel's atmosphere is suffused with paranoia and bitterness. With a strong opening and definite sense of place, Taylor has much to offer as a writer." —Library Journal
"Mixing fictional and reality-based characters and providing a wealth of period detail . . . Taylor makes a strong debut with the first in a series featuring a hard-edged but properly vulnerable detective." —Kirkus Reviews
"It's hard to beat postwar New York for noir atmosphere with a touch of glamour behind the menace. This one's all about mood, and Taylor brings it." —Booklist
Forge Books, 9780765374851, 320pp.
Publication Date: April 5, 2016
About the Author
David C. Taylor, author of Night Life, was born and raised in New York City. He spent twenty years in Los Angeles writing for television and the movies. He has published short stories and magazine articles, and has had an Off-Broadway musical produced in New York. He now divides his time between Boston and the coast of Maine.