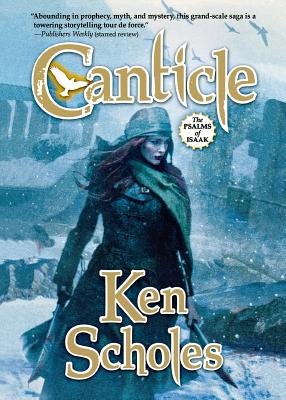 Canticle (Paperback)
The Second Volume of The Palms of Isaac (The Psalms of Isaak #2)
Tor Books, 9780765375100, 384pp.
Publication Date: October 13, 2009
Other Editions of This Title:
Digital Audiobook (10/12/2009)
Mass Market Paperback (8/31/2010)
CD-Audio (7/3/2014)
Hardcover (10/13/2009)
* Individual store prices may vary.
Description
Come back to the Named Lands in this compelling sequel to Ken Scholes amazing novel Lamentation.
It is nine months after the end of the previous book. Many noble allies have come to the Ninefold Forest for a Feast in honor of General Rudolfo's first-born child. Jin Li Tam, his wife and mother of his heir, lies in childbed.
As the feast begins, the doors of the hall fly open and invisible assassins begin attacking. All of Rudolfo's noble guests are slain, including Hanric, the Marsh Queen's Shadow. And on the Keeper's Gate, which guards the Named Lands from the Churning Waste, a strange figure appears, with a message for Petronus, the Hidden Pope.
Thus begins the second movement of The Psalms of Isaak, Canticle.
The Psalms of Isaak
#1 Lamentation
#2 Canticle
#3 Antiphon
#4 Requiem
#5 Hymn
About the Author
Ken Scholes is the award-winning, critically-acclaimed author of multiple novels and short stories. His work has appeared in print since 2000 and includes the Psalms of Isaak series (Lamentation, Canticle, Antiphon) and the Tor.com short story "If Dragon's Mass Eve Be Cold and Clear."
Ken's eclectic background includes time spent as a label gun repairman, a sailor who never sailed, a soldier who commanded a desk, a fundamentalist preacher (he got better), a nonprofit executive, a musician and a government procurement analyst. He has a degree in History from Western Washington University.
Ken is a native of the Pacific Northwest and makes his home in Hillsboro, Oregon, where he lives with his twin daughters.
Praise For Canticle: The Second Volume of The Palms of Isaac (The Psalms of Isaak #2)…
"Scholes's mesmerizing debut novel, the first installment of the five-volume Psalms of Isaak saga, launches him into the stratosphere of contemporary epic fantasy...Readers will be intrigued by the subtle, adept world-building and ensemble cast of brilliantly complex characters, but it's Scholes's pure storytelling prowess that makes this tale of devastation and retribution so unforgettable." —Publishers Weekly (starred review) on Lamentation
"All the ingredients of a first-rate epic--magic, arcane science, and a handful of compelling protagonists. By the end of the novel, the reader is caring deeply about the characters and looking forward with burning anticipation to the sequels." —Booklist on Lamentation
"This is the golden age of fantasy, with a dozen masters doing their best work. Then along comes Ken Scholes, with his amazing clarity, power, and invention, and shows us all how it's done. Vivid characters, a world thick with detail, and wonders we've never seen before. I wish my first novel had been this good. I wish all five volumes of this series were already published so I could read them now." —Orson Scott Card on Lamentation