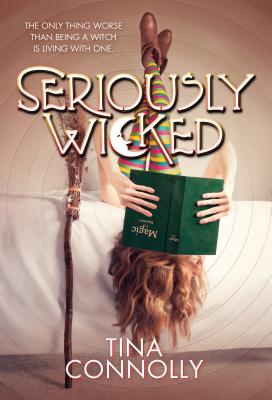 Seriously Wicked (Hardcover)
A Novel
Tor Teen, 9780765375162, 208pp.
Publication Date: May 5, 2015
Other Editions of This Title:
Paperback (11/1/2016)
* Individual store prices may vary.
Description
The hilarious new YA from acclaimed author Tina Connolly.
Camellia's adopted mother wants Cam to grow up to be just like her. Problem is, Mom's a seriously wicked witch.
Cam's used to stopping the witch's crazy schemes for world domination. But when the witch summons a demon, he gets loose—and into Devon, the cute new boy at school.
Suddenly Cam's got bigger problems than passing Algebra. Her friends are getting zombiefied. Their dragon is tired of hiding in the RV garage. For being a shy boy-band boy, Devon is sure kissing a bunch of girls. And a phoenix hidden in the school is going to explode on the night of the Halloween Dance.
To stop the demon before he destroys Devon's soul, Cam might have to try a spell of her own. But if she's willing to work spells like the witch...will that mean she's wicked too?
About the Author
TINA CONNOLLY lives with her family in Portland, Oregon, in a house that came with a dragon in the basement and blackberry vines in the attic. She is the author of the Ironskin series (Ironskin, Copperhead, Silverblind) and her stories have appeared all over, including in Strange Horizons, Lightspeed, and Beneath Ceaseless Skies.
Praise For Seriously Wicked: A Novel…
"This is an astonishing book: an evocative re-imagination of Jane Eyre that concerns itself with beauty, love, and social upheaval. This lyrical and utterly marvelous debut is one of the standout books of the year." —RT Book Reviews, 4 ½ Stars, Top Pick! on Ironskin
"Connolly has created a complex and well-drawn world here, and the story is indeed an original and imaginative take on the gothic-fiction tradition. An intriguing and ambitious fantasy tale." —Kirkus Reviews on Ironskin
"All the romance, mystery, and horror that a good gothic story needs." —Portland Monthly on Ironskin
"Jane is ferocious and splendid; the hero is tormented and tragic. Tina Connolly has crafted a steampunk Beauty and the Beast tale, beautifully and cleverly reversed. Don't miss this debut." —Ann Aguirre, national bestselling author of Enclave, on Ironskin
"A lyrical, beautifully crafted debut. A haunting exploration of the true price one must pay for magic, beauty, and love, Ironskin will stay with me for a long time to come." —M.K. Hobson, author of The Native Star, on Ironskin
"Clever and romantic at the same time--no mean feat. A magical and entertaining waltz across the fairy forests and dark moors just a sideways step or two from Haworth Parsonage." —Ian R. MacLeod, author of Wake Up and Dream, on Ironskin
or
Not Currently Available for Direct Purchase