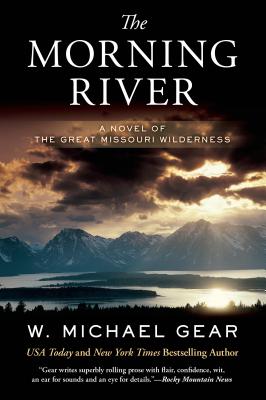 The Morning River (Paperback)
A Novel of the Great Missouri Wilderness (Man From Boston #1)
Forge Books, 9780765375209, 480pp.
Publication Date: April 8, 2014
* Individual store prices may vary.
Description
During the winter of 1825, Richard Hamilton—a timid Harvard philosophy student—arrives in St. Louis on business for his father. Robbed and beaten, desperate to save his life, he reluctantly joins the crew of the Maria, a fur trader's keelboat. Bound for the beautiful, wild, and dangerous Indian country of the Upper Yellowstone River, the native Bostonian begins the education and adventure of a lifetime.
On a converging path is Packrat, a Pawnee warrior who captures a beautiful young Shoshone medicine woman named Heals Like a Willow. But slaves with ties to the spirit world can—and do—fight back.
As the Maria struggles deeper into the wilderness, Richard and Willow are cast together: seekers of knowledge and spirit, unwitting adversaries separated by time, space, and birthright. As inevitable as the collision of their two worlds, their love begins to unfold—and with it the terrible consequences of a forbidden consummation.

The Morning River is the first of The Man from Boston duology from bestselling author W. Michael Gear—a western that has become a classic tale of the dangers and possibilities of the American frontier.
About the Author
W. Michael Gear, who holds a master's degree in archaeology, has worked as a professional archaeologist since 1978. He is currently principal investigator for Wind River Archaeological Consultants. With his wife, Kathleen O'Neal Gear, he has written the international and USA Today bestselling North America's Forgotten Past Series (including People of the Songtrail, People of the Morning Star, Sun Born, Moon Hunt, among others); and Anasazi Mystery Series.
Praise For The Morning River: A Novel of the Great Missouri Wilderness (Man From Boston #1)…
"Gear is a vigorous writer....He tells a gripping tale." —Publishers Weekly
"Michael Gear's Indians, mountain men, entrepreneurs, and even effete New Englanders ring faithful to their time and place. This is not only a good story with finely etched characters, but good history as well. Michael Gear has crafted fiction and history into a good read." —Robert M. Utley, author of The Lance and the Shield: The Life and Times of Sitting Bull
"I am thrilled with pleasure and deep satisfaction at every page I read." —Norman Zollinger, Golden Spur Award-winning author of Riders to Cibola and Chapultepec