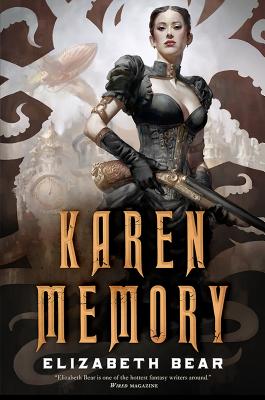 Karen Memory
Paperback

* Individual store prices may vary.
Other Editions of This Title:
Digital Audiobook (2/2/2015)
Hardcover (2/3/2015)
Description
"You ain't gonna like what I have to tell you, but I'm gonna tell you anyway. See, my name is Karen Memery, like memory only spelt with an e, and I'm one of the girls what works in the Hôtel Mon Cherie on Amity Street. 'Hôtel' has a little hat over the o like that. It's French, so Beatrice tells me."
Set in the late nineteenth century-in a city a lot like what we now call Seattle Underground-when airships plied the trade routes, would-be gold miners were heading to the gold fields of Alaska, and steam-powered mechanicals stalked the waterfront, Karen is a young woman on her own, is making the best of her orphaned state by working in Madame Damnable's high-quality bordello. Through Karen's eyes we get to know the other girls in the house-a resourceful group-and the poor and the powerful of the town.
Trouble erupts one night when a badly injured girl arrives at their door, begging sanctuary, followed by the man who holds her indenture, and who has a machine that can take over anyone's mind and control their actions. And as if that wasn't bad enough, the next night brings a body dumped in their rubbish heap-a streetwalker who has been brutally murdered.
Hard on the heels of that horrifying discovery comes a lawman who has been chasing this killer for months. Marshal Bass Reeves is closing in on his man, and he's not about to reject any help he can get, even if it comes from girl who works in the Hôtel Mon Cheri.
Elizabeth Bear brings alive this Jack-the-Ripper yarn of the Old Steampunk West with a light touch in Karen's own memorable voice, and a mesmerizing evocation of classic steam-powered science in Karen Memory.
Praise For Karen Memory…
"Karen Memory is a book that gets going right away and never stops. Surreally captivating, Bear's latest melds the genres of steampunk, fantasy, adventure and dime-store western together perfectly, thanks mostly to the charming voice of the protagonist. Karen's rough edges and obviously wicked intelligence are highlighted by nuanced details that establish her already likable voice as even more relatable; her charming (self-taught) misuse of phrases and terminology, and reflexive bravery and morality are just a few examples in this fantastic read." —RT Book Reviews, 4 ½ stars, Top Pick!
"Bear pumps fresh energy in the steampunk genre with a light touch on the gadgetry and a vivid sense of place. Karen has a voice that is folksy but true, and the entire cast of heroic women doing the best they can in an age that was not kind to their gender is a delight.... Karen and the ladies kick ass." —Library Journal, starred review
"Bear's rollicking, suspenseful, and sentimental steampunk novel introduces Karen Memery.... Bear gives Karen a colorful voice, sharp eyes, and the spunk and skills necessary to scuffle with bad types as well as to win over people whose help she needs. Her story is a timeless one: a woman doing what is needed to get by while dreaming and fighting for great things to come." —Publishers Weekly
"Fans of the steampunk aesthetic will appreciate Bear's affectionate treatment of the style. Weapons, gadgets, and their places in the characters' lives put together a charmingly inventive fictional Seattle--especially for those readers bringing along some knowledge of the city's nascent history." —Booklist
Tor Books, 9780765375254, 352pp.
Publication Date: January 12, 2016
About the Author
Elizabeth Bear shares a birthday with Frodo and Bilbo Baggins. This, coupled with a tendency to read the dictionary as a child, doomed her early to penury, intransigence, friendlessness, and the writing of speculative fiction. She was born in Hartford, Connecticut, and grew up in central Connecticut with the exception of two years (which she was too young to remember very well) spent in Vermont's Northeast Kingdom, in the last house with electricity before the Canadian border.
She's a second-generation Swede, a third-generation Ukrainian, and a third-generation Transylvanian, with some Irish, English, Scots, Cherokee, and German thrown in for leavening. Elizabeth Bear is her real name, but not all of it. Her dogs outweigh her, and she is much beset by her cats.
Bear was the recipient of the John W. Campbell Award for Best New Writer in 2005. She has won two Hugo Awards for her short fiction, a Sturgeon Award, and the Locus Award for Best First Novel. She is the author of the acclaimed Eternal Sky series, the Edda of Burdens series, and coauthor (with Sarah Monette) of the Iskryne series. Bear lives in Brookfield, Massachusetts.