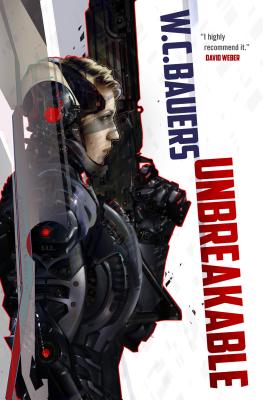 Unbreakable (Hardcover)
A Novel (Chronicles of Promise Paen #1)
Tor Books, 9780765375421, 368pp.
Publication Date: January 13, 2015
Other Editions of This Title:
Digital Audiobook (1/12/2015)
Paperback (7/5/2016)
* Individual store prices may vary.
Description
The colonists of the planet Montana are accustomed to being ignored. Situated in the buffer zone between two rival human empires, their world is a backwater: remote, provincial, independently minded. Even as a provisional member of the Republic of Aligned Worlds, Montana merits little consideration—until it becomes the flashpoint in an impending interstellar war.
When pirate raids threaten to destabilize the region, the RAW deploys its mechanized armored infantry to deal with the situation. Leading the assault is Marine Corps Lieutenant and Montanan expatriate Promise Paen of Victor Company. Years earlier, Promise was driven to join the Marines after her father was killed by such a raid. Payback is sweet, but it comes at a tremendous and devastating cost. And Promise is in no way happy to be back on her birthworld, not even when she is hailed as a hero by the planet's populace, including its colorful president. Making matters even worse: Promise is persistently haunted by the voice of her dead mother.
Meanwhile, the RAW's most bitter rival, the Lusitanian Empire, has been watching events unfold in the Montana system with interest. Their forces have been awaiting the right moment to gain a beachhead in Republic territory, and with Promise's Marines decimated, they believe the time to strike is now.
Unbreakable by W.C. Bauers is character-driven military science fiction featuring a female marine caught between two empires.
About the Author
W. C. BAUERS has worked on the sales side of publishing for more than thirteen years. Unbreakable is his first novel. His interests include Taekwondo, reading and writing military science fiction, toting gear for his Alpha Unit, and French press brewing. He lives in the Rocky Mountains with his wife and three boys.
Praise For Unbreakable: A Novel (Chronicles of Promise Paen #1)…
"Bauer puts together characters who take up residence in your heart, the cold-blooded politics of the 'Great Game,' the power of devotion and loyalty, and the human cost carnage extracts from even the most courageous. I highly recommend it." —David Weber, New York Times bestselling author of the Safehold series
"Tense and fascinating, Ubreakable will hold readers captive until the very end." —RT Book Reviews
"A little bit Starship Troopers and a little bit Esmay Suiza, with a dash of Firefly for flavor. W.C. Bauers gives us everything we want in our military science fiction, but never allows the hardware and action to overshadow Paen and everyone else caught in the crossfire." —Dayton Ward, New York Times bestselling author of The Last World War
"Action-packed, character-rich and mil spec'd to the max. Empires may rise but this backwater rules" —Dani Kollin, co-author of The Unincorporated Man
"Military science fiction with a kick-butt female lead." —Kirkus Reviews
"It's almost a cliche to compare military SF novels to Starship Troopers, but this is the real deal. Bauers has created a gritty, complex story Heinlein would have been proud of." —James Cambias, author of A Darkling Sea
or
Not Currently Available for Direct Purchase