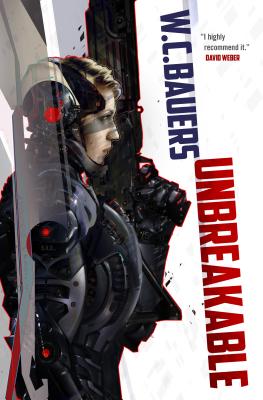 Unbreakable
A Novel (Chronicles of Promise Paen #1)
Paperback

* Individual store prices may vary.
Other Editions of This Title:
Digital Audiobook (1/12/2015)
Description
Their backwater planet is now the center of a war.

Colonists of Montana are content with being ignored, overlooked within the sprawling systems that make up the Republic of Aligned Worlds. But when pirates attack their home, they become center stage in an intergalactic war.

Montanan expat Promise Paen leads the Republic's defense units. All are determined to protect the Republic and the people of Montana, but for Promise, this mission is personal. The pirates attacking Montana are the very same rebels who killed her father years before.

Meanwhile, the Republic's most bitter rival carefully monitors the situation in the Montana system. They have been waiting for the perfect time to attack, and that moment has finally arrived.
Praise For Unbreakable: A Novel (Chronicles of Promise Paen #1)…
"Unbreakable runs the gamut from close-quarters combat, to titanic space battles, to interstellar foreign policy as Promise and her marines are pinned down far from home, defending the planet Montana. What sets it apart is hinted at in the title: Paen and her soldiers are subjected to a rigorous and unrelenting campaign that tests their skills and resolve. Bauers demonstrates the real impact that war has on soldiers as their numbers dwindle over the course of the a never-ending battle." —Andrew Liptak, B&N blog

"Unbreakable is a wonderful debut, with engaging characters (the dialog between Promise and her dead mother is a hoot), thrilling military action on land and in space, and a credible universe with good and not so good folk on both sides of humanity at war. I very much look forward to more of Promise Paen and her Marines." —BookLoons.com

"Unbreakable is an exuberant read in the mold of David Weber's Honor Harrington series, with strong female characters and a welcome absence of overt romance. Promise is a believable, comfortable character who feels the death of every one of 'her marines' while leading the survivors in an against-the-odds battle with a significantly better-provisioned army. The military details seem authentic, but don't threaten to overwhelm or sidetrack this well-told story. W.C. Bauers's impressive debut will appeal to fans of hard and military science-fiction alike." —Rob LeFebvre, Shelf Awareness

"Bauers' debut is an impressive achievement, set in an enormous, complex universe that combines large-scale action with the emotional journey of one truly unique heroine." —RT Book Reviews

"This is a solid, well-crafted military SF." —Booklist

"Military science fiction with a kick-butt female lead ..." —Kirkus Reviews

"The action scenes are plentiful; however, while Bauer sketches in the outline of the politics shaping Montana's history, a strong picture of why the various forces are fighting for control of the planet is never really conveyed." —Library Journal

"Fascinating characters, sprawling space politics and rivalries, cracking battles and awesome tech ...." —Smash Dragons

"[Promise Paen] is a wonderful character for readers with a taste for the emotionality of honour, respect and duty." —The Nameless Zine
Tor Books, 9780765375438, 384pp.
Publication Date: July 5, 2016
About the Author
W. C. Bauers is a boy-dad, speaker, believer, bibliophile, and author of children's books and science fiction.

Bauers' first novel, UNBREAKABLE, was an Amazon and B&N, Science Fiction & Fantasy Best Book-of-the-Month pick. His second, INDOMITABLE, was a B&N, i09, and Kirkus Best of the Month Pick.
Bauers lives in the Rocky Mountains with his three sons.
or
Not Currently Available for Direct Purchase