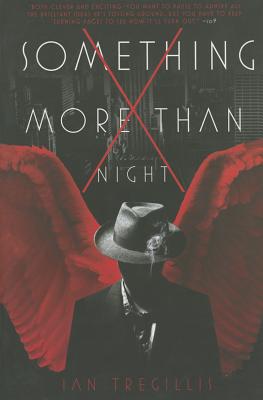 Something More Than Night (Paperback)
Tor Books, 9780765375780, 304pp.
Publication Date: December 30, 2014
Other Editions of This Title:
Hardcover (12/3/2013)
MP3 CD (6/28/2016)
* Individual store prices may vary.
Description
Something More Than Night is a Dashiell Hammett and Raymond Chandler-inspired murder mystery set in Thomas Aquinas's vision of Heaven. It's a noir detective story starring fallen angels, the heavenly choir, nightclub stigmatics, a priest with a dirty secret, a femme fatale, and the Voice of God.

Somebody has murdered the angel Gabriel. Worse, the Jericho Trumpet has gone missing, putting Heaven on the brink of a truly cosmic crisis. But the twisty plot that unfolds from the murder investigation leads to something much bigger: a con job one billion years in the making.

Because this is no mere murder. A small band of angels has decided to break out of Heaven. They need a human patsy to make their plan work.
Much of the story is told from the point of view of Bayliss, a cynical fallen angel who has modeled himself on Philip Marlowe. The yarn he spins follows the progression of a Marlowe novel—the mysterious dame who needs his help, getting grilled by the bulls, finding a stiff, getting slipped a mickey.
Angels and gunsels, dames with eyes like fire, and a grand maguffin, Ian Tregillis's Something More Than Night is a murder mystery for the cosmos.
About the Author
IAN TREGILLIS lives near Santa Fe, New Mexico, where he works as a physicist at Los Alamos National Laboratory. He is a member of the George R.R. Martin Wild Cards writing collective and the author of The Milkweed Triptych Bitter Seeds, The Coldest War and Necessary Evil.
Praise For Something More Than Night…
"Superlatives seem superfluous. Instead...wow. Just-wow." —Kirkus Reviews