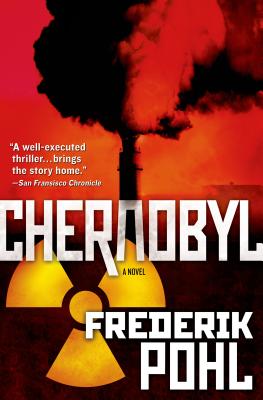 Chernobyl (Paperback)
A Novel
Tor Books, 9780765375964, 368pp.
Publication Date: June 17, 2014
* Individual store prices may vary.
Description
Chernobyl: The very name conjures the catastrophe that the world feared could happen someday at a nuclear power plant. On April 26, 1986, a power surge caused the core of one of the reactors to explode, spewing a cloud of radioactive steam into the air. More than four thousand people died, as many as a half-million suffered potentially cancer-causing exposure, and the city around the plant became a toxic wasteland in which nothing could live. Before the disaster at the Chernobyl plant, nuclear catastrophe had been only a fear, a threat. But when the Chernobyl plant was destroyed, those fears were suddenly all too real.
Frederik Pohl's novel about this disaster was written months after the tragic events. He had the cooperation of many people inside the USSR with access to technical information and first-person accounts of the events of what is still the most tragic nuclear event in human history and only one of two level-7 nuclear accidents, along with the Fukushima disaster of 2011.
This is fiction, but it is the most riveting, realistic account of what happened that has ever been written. It is also a cautionary tale that reminds us of the dangers of nuclear power plants and the terrible devastation they can unleash.
Including a new Afterword by the author, this is an important book.
About the Author
Frederik Pohl (1919-2013) was one of science fiction's most important authors. Among his many novels are Gateway, which won the John W. Campbell Memorial Award, the Hugo Award, the Locus SF Award, and the Nebula Award, Beyond the Blue Event Horizon, which was a finalist for the Hugo and Nebula Awards, and Jem, which won the 1980 National Book Award in Science Fiction. He also collaborated on classic science fiction novels including The Space Merchants with Cyril M. Kornbluth. Pohl was an award-winning editor of Galaxy and If, a book editor at Bantam, and served as president of the Science Fiction Writers of America. He was named a Grand Master of Science Fiction by SFWA in 1993, and was inducted into the Science Fiction and Fantasy Hall of Fame.
Praise For Chernobyl: A Novel…
"Along with a splendid cast in a gripping and vivid narrative, Pohl presents as balanced and insightful a picture of the USSR as may be found. A pro's pro in top form, tackling an inherently fascinating subject: the combination is irresistible." —Kirkus Reviews
or
Not Currently Available for Direct Purchase