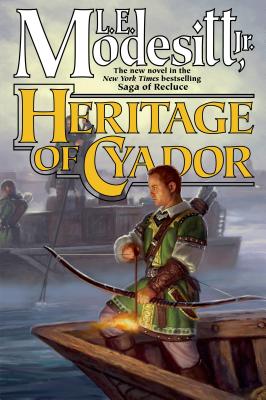 Heritage of Cyador (Hardcover)
Tor Books, 9780765376138, 528pp.
Publication Date: November 18, 2014
* Individual store prices may vary.
Description
"An intriguing fantasy in a fascinating world." --Robert Jordan, New York Times bestselling author of The Wheel of Time(R) series
Scarcely a year after the events of Cyador's Heirs, Lerial uses his mastery of Order and Chaos, the competing natural forces that shape his world and define the magic that exists within it, to utterly destroy an Afritan military force crossing into Cigoerne.
Five years later, Lerial, now an overcaptain and a field commander of Cigoerne's Mirror Lancers, must lead three companies of troops into Afrit on a mission of mutual interest: neighboring Heldya is threatening to invade Afrit, and if that nation falls, Cigoerne is certain to be next.
The mission is both delicate and dangerous; Lerial's value in the effort to repelling Heldya is undeniable, but his troubled history against Afrit may reopen old wounds that will never truly heal.
L.E. Modesitt, Jr.'s bestselling fantasy novels set in the magical world of Recluce are among the most popular in contemporary fantasy. Each novel tells an independent story that nevertheless reverberates though all the other books in the series, to deepen and enhance the reading experience. Rich in detail, the Recluce books are a feast of wondrous marvels.
Saga of Recluce
#1 The Magic of Recluce / #2 The Towers of Sunset / #3 The Magic Engineer / #4 The Order War / #5 The Death of Chaos / #6 Fall of Angels / #7 The Chaos Balance / #8 The White Order / #9 Colors of Chaos / #10 Magi'i of Cyador / #11 Scion of Cyador / #12 Wellspring of Chaos / #13 Ordermaster / #14 Natural Order Mage / #15 Mage-Guard of Hamor / #16 Arms-Commander / #17 Cyador's Heirs / #18 Heritage of Cyador /#19 The Mongrel Mage (forthcoming)
Story Collection: Recluce Tales
Other Series by L.E. Modesitt, Jr.
The Imager Portfolio
The Corean Chronicles
The Spellsong Cycle
The Ghost Books
The Ecolitan Matter
About the Author
L. E. MODESITT, JR., is the bestselling author of more than sixty novels encompassing two science fiction series and three fantasy series, including the Saga of Recluce. He lives in Cedar City, Utah.
or
Not Currently Available for Direct Purchase