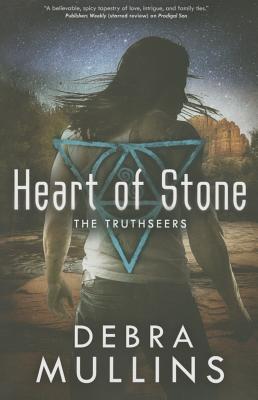 Heart of Stone (The Truthseers #2)
Paperback

* Individual store prices may vary.
Description
Debra Mullins introduced readers to the world of the Truthseers in Prodigal Son. Now the story of the lost Atlanteans continues in Heart of Stone.

Darius Montana is a Seer. With his gift of empathy, he can see into the hearts of others, both human and Atlantean. When his family comes into possession of one of the legendary power stones of Atlantis, Darius is sent to find the Stone Singer.

Faith Karaluros is the last Stone Singer. Manipulated all her life for her rare ability, she is widowed after her husband tried to steal her power for the Mendukati, an extremist group that hunts Seers. Faith wants nothing more than to stay out of this war when Darius comes to find her—just in time to rescue her from being kidnapped.

Faith goes with Darius, determined to do the job and be on her way with the money that can set her up where no one can find her again. She didn't count on the Mendukati sending a hit man after her. Darius swears he can protect her, but when she discovers he is one of the rare Atlanteans whose powers work on their own kind, can she trust him to keep his word, or is she being used again?
Praise For Heart of Stone (The Truthseers #2)…
"Debra Mullins opens up a whole new universe as she takes you on an emotional roller coaster ride into sexy adventure. The world isn't what you thought. You won't put it down." —Susan Squires, New York Times bestselling author on Prodigal Son

"Passion, intrigue, and heartfelt emotion--Debra Mullins delivers captivating romance!" —Tessa Dare, New York Times bestselling author of A Week to Be Wicked
Tor Books, 9780765376145, 320pp.
Publication Date: October 21, 2014
About the Author
DEBRA MULLINS is an award-winning author of historical and paranormal romances, including Prodigal Son. She has been nominated for the Holt Medallion, the Rita from Romance Writers of America, and the National Readers Choice Award. When not writing, Mullins is reading or traveling or working on her family tree—sometimes all at the same time. Born and raised in the New York/New Jersey area, she now lives in California with her family, where she doesn't miss snowstorms in the least and continues her search for real pizza.