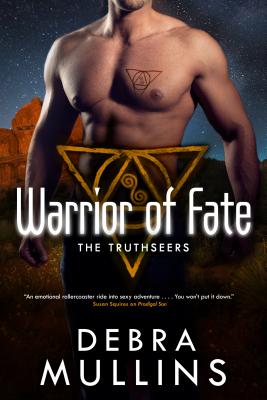 Warrior of Fate (Truthseers #3) (Paperback)
St. Martin's Press, 9780765376152, 304pp.
Publication Date: October 20, 2015
Description
Award-winning author Debra Mullins introduced readers to the world of the Truthseers in Prodigal Son and Heart of Stone. Now the story of the lost Atlanteans continues in Warrior of Fate.
Warrior Adrian Gray has dedicated his life in service to his people, and has never doubted his calling...until now. Three mystical Atlantean power stones were assumed lost for centuries, but one by one the Seers of Atlantis have tracked them down in a tireless race against the extremist Mendukati. Adrian's mission? To ensure that the stones are acquired and protected by the right people--his people.
Adrian has always been uncompromising in his dedication to the cause. But the True Seer Tessa Montana proves a sensual distraction in his quest, and he soon finds his discipline wavering. Torn between his sacred duty to the Warriors and his desire for Tessa, will Adrian and his secrets cost them the war?
About the Author
DEBRA MULLINS is the award-winning author of historical and paranormal romances. She has been nominated for the Holt Medallion, the RITA from Romance Writers of America and the National Readers Choice Award. When not writing, she is reading or traveling or working on her family tree-sometimes all at the same time. She is the author of The Truthseers series, including Prodigal Son, Heart of Stone, and Warrior of Fate. Born and raised in the New York/New Jersey area, she now lives in California with her family, where she doesn't miss snowstorms in the least and optimistically continues her search for real pizza.
Advertisement