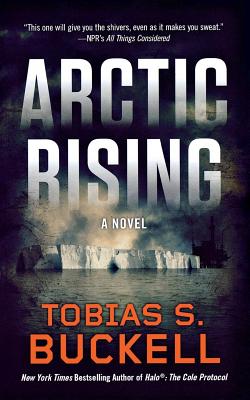 Arctic Rising (Paperback)
A Novel
Tor Books, 9780765376299, 304pp.
Publication Date: April 12, 2016
Other Editions of This Title:
Hardcover (2/28/2012)
Mass Market Paperbound (12/24/2012)
* Individual store prices may vary.
Description
Global warming has transformed the Earth, and it's about to get even hotter. The Arctic Ice Cap has all but melted, and the international community is racing desperately to claim the massive amounts of oil beneath the newly accessible ocean.
Enter the Gaia Corporation. Its two founders have come up with a plan to roll back global warming. Thousands of tiny mirrors floating in the air can create a giant sunshade, capable of redirecting heat and cooling the earth's surface. They plan to terraform Earth to save it from itself—but in doing so, they have created a superweapon the likes of which the world has never seen.
Anika Duncan is an airship pilot for the underfunded United Nations Polar Guard. She's intent on capturing a smuggled nuclear weapon that has made it into the Polar Circle and bringing the smugglers to justice.
Anika finds herself caught up in a plot by a cabal of military agencies and corporations who want Gaia Corporation stopped. But when Gaia Corp loses control of their superweapon, it will be Anika who has to decide the future of the world. The nuclear weapon she has risked her life to find is the only thing that can stop the floating sunshade after it falls into the wrong hands.
About the Author
Tobias S. Buckell is the author of several novels including Halo: The Cole Protocol, Arctic Rising, Sly Mongoose, Ragamuffin, and Crystal Rain. His books have been finalists for the Nebula Award, the Prometheus Award, and the Romantic Times Award for Best Science Fiction Novel. He hails from the Caribbean, where as a child he lived on boats in Grenada and the British and U.S. Virgin Islands. When he was a teenager, his family moved to Ohio after a series of hurricanes destroyed the boat they were living on, and he attended Bluffton University in Bluffton, Ohio, where he still lives today. Buckell fell in love with science fiction at a young age, reading Arthur C. Clarke and Isaac Asimov novels when he was seven years old. He is now a full-time author and freelancer.
or
Not Currently Available for Direct Purchase