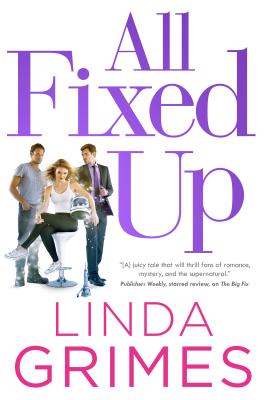 All Fixed Up
A Novel (Ciel Halligan #4)
Hardcover

* Individual store prices may vary.
Description
The hilarious adventures of human chameleon Ciel Halligan continue in the fourth installment of this original urban fantasy series from Linda Grimes, All Fixed Up.
Ciel Halligan, aura adaptor extraordinaire, has a lot of experience filling in for her clients--as them. A rare genetic quirk gives her the ability to absorb human energy and project it back out in a flawless imitation. She's hard at work, posing as a well-known and celebrated astronaut, about to make a stunning announcement on behalf of the space program...when the photographer documenting the job sees right through her aura. Worse, it soon becomes apparent that he not only knows Ciel's not who she's supposed to be, but means her harm.
When Ciel's elderly Aunt Helen—also an aura adaptor—is murdered in Central Park, and the same photographer shows up at the funeral, Ciel starts to feel even more exposed. Then more adaptors are killed in the same way, and she becomes terrified her friends and family are being systematically exterminated ... and it's starting to look like she's the ultimate target. She turns to Billy Doyle, her best-friend-turned-boyfriend, for help, but when an unexpected crisis causes him to take off without a word, she's left to rely on her not-so-former crush, CIA agent Mark Fielding.
Staying alive, keeping control of her romantic life, and unraveling the mystery of why adaptors are being pursued becomes a harder balancing act than ever in this new Ciel Halligan adventure from Linda Grimes.
Tor Books, 9780765376398, 336pp.
Publication Date: May 24, 2016
About the Author
LINDA GRIMES is the author of In a Fix and its sequel Quick Fix. A former English teacher and ex-actress, Grimes now channels her love of words and drama into writing. She grew up in Texas and currently resides in northern Virginia with her husband.
or
Not Currently Available for Direct Purchase