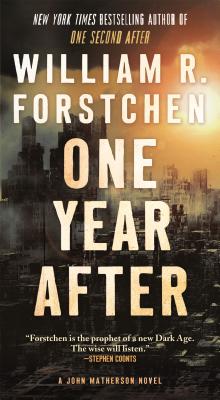 One Year After (Paperback)
A John Matherson Novel
Forge Books, 9780765376718, 448pp.
Publication Date: June 28, 2016
* Individual store prices may vary.
Description
Months before publication, William R. Forstchen's One Second After was cited on the floor of Congress as a book all Americans should read. This thrilling follow-up to that smash hit begins one year after One Second After ends, two years since nuclear weapons were detonated above the United States and brought America to its knees. After months of suffering starvation, war, and countless deaths, the survivors of Black Mountain, North Carolina, are beginning to recover technology and supplies they had once taken for granted. When a "federal administrator" arrives in a nearby city, they dare to hope that a new national government is finally emerging.
Progress is halted when the young men and women in the community are drafted into the "Army of National Recovery." Town administrator John Matherson and the people of Black Mountain protest vehemently. But "the New Regime" is already tyrannizing one nearby community, and it seems that Matherson's friends and neighbors will be next.
This edition of the book is the deluxe, tall rack mass market paperback.
About the Author
William R. Forstchen is the author of the New York Times bestseller One Second After and We Look Like Men of War, among numerous other books in diverse subjects ranging from history to science fiction. He has co-authored several books with Newt Gingrich, including Gettysburg: A Novel of the Civil War, Pearl Harbor, Days of Infamy, To Try Men's Souls and Valley Forge. Forstchen holds a Ph.D. in History from Purdue University, with specializations in military history and the history of technology. He is currently a Faculty Fellow and Professor of History at Montreat College, near Asheville North Carolina. He is a pilot and flies an original WWII recon "warbird." He resides near Asheville with his daughter Meghan.
Praise For One Year After: A John Matherson Novel…
"A fine postapocalyptic thriller, with richly drawn characters and the kind of story that we can easily imagine happening." —Booklist
"Forstchen is the prophet of a new Dark Age. The wise will listen." —Stephen Coonts, New York Times bestselling author of The Art of War
"The people were so real that I felt as if I had known them for a very long time after just the first few pages. And that, in my book, is true story telling that only the rarest of writers ever master. . . . Bill has perfected his talent." —David Hagberg, New York Times bestselling author of The Fourth Horseman