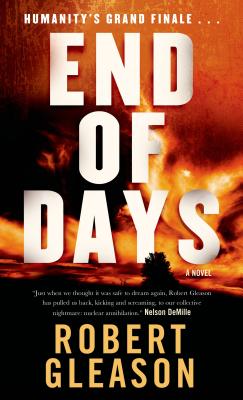 End of Days
A Novel
Paperback

* Individual store prices may vary.
Description
Lydia Lozen Magruder—the great-granddaughter of a female Apache war-shaman—has seen visions of the End since childhood. She has constructed a massive ranch-fortress in the American Southwest, stocked with everything necessary to rebuild civilization.

Now her visions are coming true. John Stone, once a baseball star and now a famous gonzo journalist, stumbled across a plan to blast humanity back to the Stone Age. Then he vanished. Lydia's only hope of tracking him down lies with her stubborn, globe-trotting daughter Kate, Stone's former lover.

Meanwhile, a Russian general obsessed with nuclear Armageddon has also disappeared...as have eight or more of his Russian subs, armed with nuclear-tipped missiles.

In Robert Gleason's End of Days, the world is armed for self-destruction. Who will survive?
Praise For End of Days: A Novel…
"Gleason's work with Junius Podrug on such novels as Apocalypse 2012 and The 2012 Code has made him an expert on all things apocalyptic, a subject he returns to with gusto in this wildly expansive tale of the coming End Times...It all adds up to a thrilling take on a frighteningly possible future, one that makes the journey in Cormac McCarthy's The Road look like a stroll through the park." —Publishers Weekly (starred review) on End of Days

"What an amazing story, sweeping in scope, terrifying, uplifting, outrageous, funny, and shocking, forming an unforgettable picture of humanity's 'end of days.'...A story for the ages." —Douglas Preston, New York Times bestselling author of Impact
Forge Books, 9780765377166, 496pp.
Publication Date: May 6, 2014
About the Author
Robert Gleason, author of End of Days, has worked for 40 years in the New York book industry, where he has published many scientists, politicians and military experts. He starred in and hosted a two-hour History Channel special, largely devoted to nuclear terrorism and has discussed the subject on many national TV/radio talk shows, including Sean Hannity's and Lou Dobbs's TV shows and George Noory's Coast to Coast AM. He has also spoken on nuclear terrorism at major universities, including Harvard.