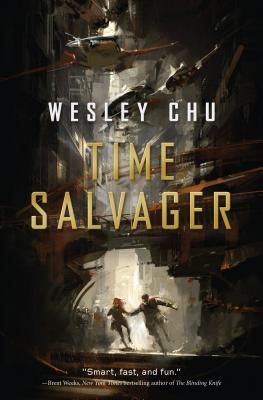 Time Salvager (Hardcover)
Tor Books, 9780765377180, 384pp.
Publication Date: July 7, 2015
Other Editions of This Title:
Paperback (4/26/2016)
MP3 CD (8/2/2016)
* Individual store prices may vary.
Description
Time Salvager: a fast-paced time travel adventure from Wesley Chu, the John W. Campbell award-winning author of The Lives of Tao.

In a future when Earth is a toxic, abandoned world and humanity has spread into the outer solar system to survive, the tightly controlled use of time travel holds the key maintaining a fragile existence among the other planets and their moons. James Griffin-Mars is a chronman--a convicted criminal recruited for his unique psychological makeup to undertake the most dangerous job there is: missions into Earth's past to recover resources and treasure without altering the timeline. Most chronmen never reach old age, and James is reaching his breaking point.
On a final mission that is to secure his retirement, James meets an intriguing woman from a previous century, scientist Elise Kim, who is fated to die during the destruction of an oceanic rig. Against his training and his common sense, James brings her back to the future with him, saving her life, but turning them both into fugitives. Remaining free means losing themselves in the wild and poisonous wastes of Earth, and discovering what hope may yet remain for humanity's home world.
About the Author
WESLEY CHU was a finalist for the John W. Campbell Award for Best New Writer. His debut novel, The Lives of Tao, earned him a Young Adult Library Services Association Alex Award and a Science Fiction Goodreads Choice Award Finalist slot.
Praise For Time Salvager…
"Chu creates a fascinating world, strange and familiar, infused with humor, sorrow, courage, greed, and sacrifice. This page-turner is a riveting, gratifying read." —Publishers Weekly (starred review)
"An utterly captivating time-travel adventure. To put it simply, Chu's worldbuilding is extraordinary." —RT Book Reviews (4 ½ stars, a Top Pick!)
"Smart, fast, and fun." —Brent Weeks, New York Times bestselling author of the Lightbringer series
"Time twisting action-adventure as only Wesley Chu could imagine it. I enjoyed it a lot. Read this book!" —Ann Leckie, author of the Hugo and Nebula Award-winning Ancillary Justice
"A gripping, taut space opera about keeping hope in hopeless circumstances. Immensely enjoyable.
" —Robert Jackson Bennett, author of City of Stairs
"Chu has taken a simple, brilliant premise and built upon it an epic universe full of thrills and wonder." —Jason M. Hough, New York Times bestselling author of The Darwin Elevator
"A powerful and compelling search of the past for redemption in the present, by turns thrilling and sweet and gut-wrenching." —Kevin Hearne, author of the Iron Druid Chronicles
"More than a compelling, innovative take on the perks and pitfalls of time travel - Time Salvager is a sharp study of how human nature might prove mankind's salvation, or eventually doom us all. This is world-building that will make you fear for the future. In a good way." —Cherie Priest, author of Maplecroft
"A clever, cautionary sf tale with cool gadgets, characterization that surprised me in the best possible way, and multiple cunning twists." —Kate Elliott, author of the Crown of Stars series
"With time travel, force-field kung fu, and a huge helping of wit, Wesley Chu transmogrifies a bleak long-whimper apocalypse into vicious, high-octane fun." —Max Gladstone, author of the Craft Sequence
"A fast-paced ride that offers a fresh spin on time travel, combines it with a high-stakes plot and genuinely innovative action, and spices the blend with a healthy dose of irreverent humor." —Jacqueline Carey, author of Kushiel's Dart
"Exciting, interesting, and never forgetting the fun of ideas, this is brilliant new stuff." —Paul Cornell, author of London Falling
"A time-warping science fiction thrill ride." —Jaye Wells, author of the Sabrina Kane series
"Gripping" —Howard Tayler, Hugo Award-winning creator of Schlock Mercenary
or
Not Currently Available for Direct Purchase