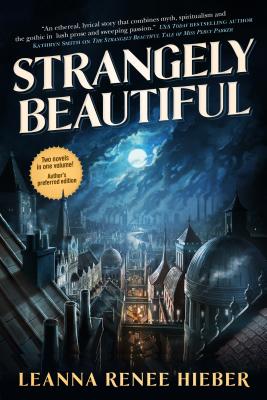 Strangely Beautiful (Paperback)
Tor Books, 9780765377432, 544pp.
Publication Date: April 26, 2016
Description
Originally published as two books, Strangely Beautiful unites Leanna Renee Hieber's critically acclaimed novels in a single revised volume, restoring the author's original vision for the work.
Miss Persephone Parker--known as Percy--is different, with her lustrous, snow-white hair, pearlescent pale skin, and uncanny ability to see and communicate with ghosts. Seeking to continue her education, Percy has come to Queen Victoria's London, to the Athens Academy. What she will learn there will change her life forever.
Athens Academy is the citadel of The Guard, an ancient order that battles the forces of evil. The Victorian Guard, led by professor Alexi Rychman, is incomplete. They cannot defeat Jack the Ripper-- who is more than the serial killer he appears to be--or the greater monster his appearance heralds.
Percy's lifelong habit of concealment combined with Alexi's fevered search for the Guard's missing seventh nearly prove disastrous as ancient Greek myths begin playing out in modern, gaslit, Victorian London. Percy and her new friends and allies must overcome their preconceptions about each other and their own histories before they can set the world to rights.
Strangely Beautiful series
Strangely Beautiful
Perilous Prophecy
Miss Violet and the Great War (coming in 2018)
The Eterna Files series
The Eterna Files
Eterna and Omega
The Eterna Solution (coming in 2018)
About the Author
LEANNE RENEE HIEBER's first novel, the Prism Award-winning The Strangely Beautiful Tale of Miss Percy Parker, is a foundational text of gaslamp fantasy and was recently reissued in a revised, author's preferred edition, as Strangely Beautiful. Perilous Prophecy, the second book in the Strangely Beautiful series, also won the Prism Award (when first published as The Perilous Prophecy of Guard and Goddess). It has been editing and revised for Tor's publication. Hieber's other novels include The Eterna Files and Eterna and Omega, as well as Darker Still, a critically-acclaimed YA novel. All of Hieber's books take place in a single, paranormally-blessed universe, and characters from one series have been known to make cameo appearances in others. Leanna Renee Hieber lives in the New York City area, where she frequently leads ghost tours.
Advertisement