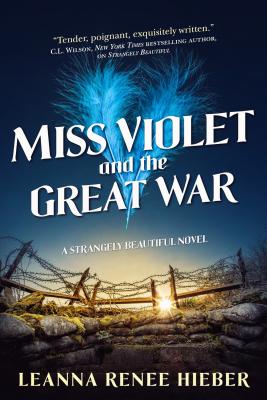 Miss Violet and the Great War (Paperback)
A Strangely Beautiful Novel
Tor Books, 9780765377463, 320pp.
Publication Date: February 26, 2019
* Individual store prices may vary.
Description
PRISM AWARD-WINNING AUTHOR

A superb, standalone adventure in Leanna Renee Hieber's groundbreaking, critically acclaimed Strangely Beautiful series, full of passion and power.
From childhood, Violet Rychman has dreamed of a coming war, of death and battle on an unimaginable scale. She has seen and heard ghosts, who have loved and guided her.
Now the future she dreamed has come to pass. World War I rages across Europe. Millions of people are dying; entire villages are disappearing.
A great and terrible vision sweeps over Violet, offering powers heralded by the Muses of antiquity. The ability to impact people's memories, even shape their thoughts. To guide their souls. To pass between the world of the living and that of the dead and to bring others through that passage.
These and other gifts once belonged to people Violet loved. Now they are hers, and she must use them to attempt to stop death itself.
Strangely Beautiful series
Strangely Beautiful
Perilous Prophecy
Miss Violet and the Great War
The Eterna Files series
The Eterna Files
Eterna and Omega
The Eterna Solution
About the Author
Leanna Renee Hieber helped create the gaslamp fantasy subgenre with her first novel, The Strangely Beautiful Tale of Miss Percy Parker, which won two Prism Awards for RWA's Fantasy, Futuristic, & Paranormal Chapter. A talented actress and singer who has been seen on stage and screen, Hieber can also sometimes be spotted leading ghost tours of New York City's Central Park. Her first YA novel, Darker Still was a Scholastic Highly Recommended Title, an INDIE NEXT selection, and a finalist for the Daphne du Maurier Award. Her books from Tor include The Eterna Files, first an historical urban fantasy/gaslamp fantasy series, and the author's preferred edition of Strangely Beautiful, which contains The Strangely Beautiful Tale of Miss Percy Parker and The Darkly Luminous Fight for Persephone Parker, united as the single novel the author originally intended, revised and with the addition of several new scenes. Hieber grew up in Ohio and now lives in the New York City area.
Praise For Miss Violet and the Great War: A Strangely Beautiful Novel…
Praise for Leanna Renee Hieber's Strangely Beautiful books:
"Tender, poignant, exquisitely written." —New York Times bestselling author C.L. Wilson
"A strangely beautiful tale indeed! An ethereal, lyrical story that combines myth, spiritualism and the gothic in lush prose and sweeping passion."—Kathryn Smith, USA Today bestselling author
"A delightfully lush and richly imagined tale. Transcendent."—Fresh Fiction
"I cannot recommend this book, this series or this author enough."—True-Blood.Net
"Strikingly rich, dark, and beautiful imagery."—Alethea Kontis in Orson Scott Card's Galactic Medicine Show
"A secretive, gothic, paranormal world…a character who will resonate with anyone who has found the beauty in being different."—Booklist
"Rich in conceits as anything from Alan Moore, Hieber's novel mixes action and the emotional lives of its characters into a fascinating stew. Anyone who enjoyed Paul Cornell's London Falling will certainly cozy up to Hieber's parallel depiction of questioning savants and heroes versus the forces of anarchy and despair."—Paul Di Filippo in Asimov's Science Fiction on The Eterna Files
"Smart, boundlessly creative gaslamp fantasy. [Hieber] blends historical fact and paranormal fiction with ease, creating a world that is lush and fascinatingly strange."—RT Book Reviews (4 stars) on The Eterna Files