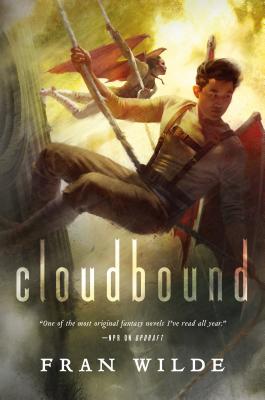 Cloudbound (Bone Universe #2) (Paperback)
Tor Books, 9780765377869, 400pp.
Publication Date: September 5, 2017
* Individual store prices may vary.
Description
After the dust settles, the City of living bones begins to die, and more trouble brews beneath the clouds in the companion to the Andre Norton Award-winning novel Updraft.

"A thrilling and complex tale about the most difficult stage of a revolution: what do you do after you win? Highly recommended both for the story it tells as well as how it tells that story. Wilde takes risks that pay off hugely." --Ken Liu, Hugo and Nebula Award-winning author of The Grace of Kings

The Towers are in disarray, without a governing body or any defense against the dangers lurking in the clouds, and daily life is full of terror and strife. Nat Densira, the wing-brother to Kirit (Skyshouter, Spirebreaker, no-longer-of-Densira) sets out to be a hero in his own way--sitting on the new Council to cast votes protecting Tower-born, and exploring lower tiers to find more materials to repair the struggling City.
But what he finds down-tier is more secrets--and now Nat will have to decide who to trust, and how to trust himself without losing those he holds most dear, before a dangerous myth raises a surprisingly realistic threat to the crippled City, in Cloudbound.

"I long to know more about the world and where Wilde's imagination will soar next. In the meantime it's all I can do to slow-clap this powerfully engaging debut: Wilde's world and characters--as is entirely appropriate--blew me away." --NPR on Updraft
Bone Universe
1) Updraft
2) Cloudbound
3) Horizon (September 2017)
About the Author
FRAN WILDE is an author and technology consultant. In 2015, her first novel, Updraft, accomplished the rare feat of winning the Andre Norton Award for Best Young Adult Science Fiction and Fantasy while also being nominated for the Best Novel Nebula Award. Her short stories have appeared in Asimov's, Nature, and Beneath Ceaseless Skies. Wilde also blogs about food and genre at Cooking the Books, the popular social-parenting website GeekMom, and at The Washington Post.