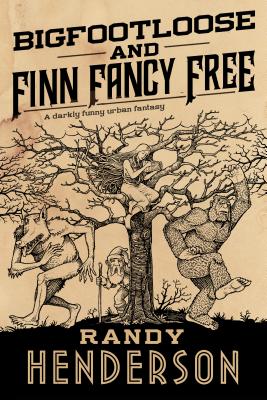 Bigfootloose and Finn Fancy Free
A darkly funny urban fantasy (The Familia Arcana #2)
Hardcover

* Individual store prices may vary.
Other Editions of This Title:
Paperback (1/17/2017)
Compact Disc (1/17/2017)
MP3 CD (2/16/2016)
Compact Disc (2/16/2016)
Compact Disc (2/16/2016)
Description
In Bigfootloose and Finn Fancy Free, the sequel to Randy Henderson's acclaimed debut novel, Finn Fancy Necromancy, Finn Gramaraye is settling back into the real world after his twenty-five-year-long imprisonment in the otherworld of the Fey. He's fallen in love with a woman from his past, though he worries she may love a version of him that no longer exists. He's proved his innocence of the original crime of Dark Necromancy, and he's finding a place in the family business--operating a mortuary for the Arcane, managing the magical energies left behind when an Arcane being dies to prevent it from harming the mundane world.
But Finn wants more. Or different. Or something. He's figured out how to use the Kinfinder device created by his half-mad father to find people's True Love, and he'd like to convert that into an Arcane Dating Service. It's a great idea. Everyone wants True Love! Unfortunately, trouble always seems to find Finn, and when he agrees to help his friend, the Bigfoot named Sal, they walk right into a Feyblood rebellion against the Arcane Ruling Council, a rebellion being fomented by unknown forces and fueled by the drug created by Finn's own grandfather.
Praise For Bigfootloose and Finn Fancy Free: A darkly funny urban fantasy (The Familia Arcana #2)…
"Absolutely marvelous. A funny, quirky, and compelling tale full of fantastic twists and dire conspiracies, featuring a charmingly awkward hero you'll root for every step of the way. Henderson's voice is unique and delightful and this is, hands down, the best fantasy debut novel of the year." —Kat Richardson, bestselling author of the Greywalker series, on Finn Fancy Necromancy
"Mix one cup humor, two cups homage to the 80s, and three cups imagination run wild and you get Randy Henderson's debut novel, Finn Fancy Necromancy.... Any child of the 80s and lover of fun, funny fantasy is going to love Henderson's first shuffle onto the storyteller's stage...and demand an immediate encore." —Ken Scholes, author of the Psalms of Isaak series, on Finn Fancy Necromancy
"A fast-paced fantasy mystery.... Henderson's debut novel is somehow lighthearted despite the doom and gloom inherent in its premise…. The quick turns of the mystery plot make this a speedy and enjoyable read, and Finn's world is a lively one, packed with all manner of weird and wonderful ghosts and goblins…. Genre fans looking for a fix will enjoy the gleefully ghoulish setting and engaging, suspenseful plot." —Kirkus Reviews on Finn Fancy Necromancy
"Henderson's debut is written from the unusual viewpoint of a teenager full of 1980s memories thrown into an adult body in the present day, and Finn faces peril at every turn.... The entertaining style and breakneck pace nonetheless make it easy to fall into Finn's world for a fun, if flawed, getaway." —Publishers Weekly on Finn Fancy Necromancy
"Funny and exciting.... The family dynamics between Finn and his brothers are well done, and the author (winner of Writers of the Future's 2014 Golden Pen Award) excellently shows Finn as an emotionally stunted teenager suddenly middle-aged and having to deal with the family and friends he left behind. A promising writer to watch." —Library Journal on Finn Fancy Necromancy
Tor Books, 9780765378101, 432pp.
Publication Date: February 16, 2016
About the Author
Randy Henderson is a 1st place winner of Writers of the Future, a Clarion West graduate, and member of SFWA and Codex. His short fiction has appeared in places like Penumbra, Escape Pod, and Realms of Fantasy, as well as anthologies. He is the author of Bigfootloose and Finn Fancy Free.
or
Not Currently Available for Direct Purchase