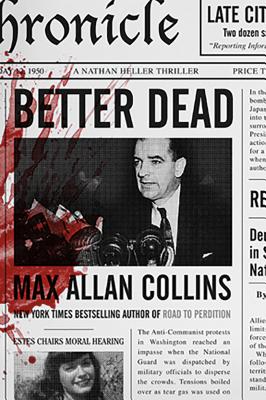 Better Dead
A Nathan Heller Thriller
Hardcover

* Individual store prices may vary.
Other Editions of This Title:
Digital Audiobook (5/2/2016)
Hardcover, Large Print (9/7/2016)
Description
Better Dead: The latest Nathan Heller Thriller from Max Allan Collins!
It's the early 1950's. Joe McCarthy is campaigning to rid America of the Red Menace. Nate Heller is doing legwork for the senator, though the Chicago detective is disheartened by McCarthy's witch-hunting tactics. He's made friends with a young staffer, Bobby Kennedy, while trading barbs with a potential enemy, the attorney Roy Cohn, who rubs Heller the wrong way. Not the least of which for successfully prosecuting the so-called Atomic Bomb spies, Julius and Ethel Rosenberg. When famous mystery writer Dashiell Hammett comes to Heller representing a group of showbiz and literary leftists who are engaged in a last minute attempt to save the Rosenbergs, Heller decides to take on the case.
Heller will have to play both sides to do this, and when McCarthy also tasks Heller to find out what the CIA has on him, Heller reluctantly agrees. His main lead is an army scientist working for the C.I.A. who admits to Heller that he's been having misgivings about the work he's doing and elliptically referring to the Cold War making World War II look like a tea party.
And then the scientist goes missing.
Praise For Better Dead: A Nathan Heller Thriller…
"Collins' take on 1950s New York City, especially Greenwich Village - dancing at the Village Barn, breakfast at the Waldorf Cafeteria - is impeccable." - Kirkus Reviews
"The entire era comes to vivid life with a fever pitch. You won't find a more engrossing historical thriller than Better Dead, nor will you have as much fun reading it." - Book Reporter
"Collins again does an effective job of bringing the past to life and making a complex cause célèbre accessible." - Publishers Weekly
Forge Books, 9780765378286, 336pp.
Publication Date: May 3, 2016
About the Author
MAX ALLAN COLLINS has been chosen as the 2017 Grand Master by Mystery Writers of America (MWA). He is the bestselling author of the graphic novel Road to Perdition, the basis for the hit film starring Tom Hanks. He has won two Shamus Awards, for True Detective and Stolen Away, both from his series of Nathan Heller novels. A prolific writer, Collins' other works include mystery novels, screenplays, comic books, film novelizations, and historical fiction.
or
Not Currently Available for Direct Purchase