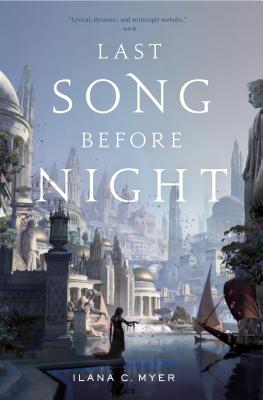 Last Song Before Night (Paperback)
The Harp and Ring Sequence #1
Tor Books, 9780765378316, 416pp.
Publication Date: November 8, 2016
Other Editions of This Title:
Digital Audiobook (9/28/2015)
Hardcover (9/29/2015)
* Individual store prices may vary.
Description
A high fantasy following a young woman's defiance of her culture as she undertakes a dangerous quest to restore her world's lost magic in Ilana C. Myer's Last Song Before Night.
Her name was Kimbralin Amaristoth: sister to a cruel brother, daughter of a hateful family. But that name she has forsworn, and now she is simply Lin, a musician and lyricist of uncommon ability in a land where women are forbidden to answer such callings-a fugitive who must conceal her identity or risk imprisonment and even death.
On the eve of a great festival, Lin learns that an ancient scourge has returned to the land of Eivar, a pandemic both deadly and unnatural. Its resurgence brings with it the memory of an apocalypse that transformed half a continent. Long ago, magic was everywhere, rising from artistic expression-from song, from verse, from stories. But in Eivar, where poets once wove enchantments from their words and harps, the power was lost. Forbidden experiments in blood divination unleashed the plague that is remembered as the Red Death, killing thousands before it was stopped, and Eivar's connection to the Otherworld from which all enchantment flowed, broken.
The Red Death's return can mean only one thing: someone is spilling innocent blood in order to master dark magic. Now poets who thought only to gain fame for their songs face a challenge much greater: galvanized by Valanir Ocune, greatest Seer of the age, Lin and several others set out to reclaim their legacy and reopen the way to the Otherworld-a quest that will test their deepest desires, imperil their lives, and decide the future.
About the Author
ILANA C. MYER lives in New York City. Under her real name, Ilana Teitelbaum, she has written for The Globe and Mail, the Los Angeles Review of Books, Salon, and The Huffington Post. Previously she was a freelance journalist in Jerusalem for the Jerusalem Post, the Jewish Daily Forward, Time Out Israel, and other publications. Fire Dance is her second novel, following Last Song Before Night.
Praise For Last Song Before Night: The Harp and Ring Sequence #1…
"Myers' depiction of Tamryllin and the land it inhabits is shadowy and lush, a tapestry of gossamer wonders as well as theocratic oppression and brutality. But the core of Last Song's strength is its characters. Bound by enmities, rivalries, lust, sacrifices, and ancient tragedies, the novel's sizeable cast forms a dizzying chemistry. Even when the book dwells on its elaborate, Regency-romance web of seductions and star-crossed suitors — which Myers weds to her setting with a deft, sure hand — that game of musical beds has haunting, profound consequences. The villains, with Lin's treacherous, predatory brother Rayen being a particularly juicy example, are painted in broad strokes, but there's plenty of nuance, dimension, and empathy to Myers' timeless myth-spinning." – Jason Heller, NPR.org
"Just as you think you've figured out what she's up to, Myer picks up her story and shakes it like a snow-globe...[LAST SONG BEFORE NIGHT] never loses its bits of humor, nor its vivid storytelling. You won't need a harp to see its magic." – Nicole Hill, B&N SF/F Blog
"Beautifully lyrical, Myer's high-fantasy debut weaves a multilayered tale of good versus evil and intimate self-discoveries. The gradual reveal of the main plot and the characters' personal truths builds to a poetic crescendo worthy of their epic quest. With detailed worldbuilding and vivid characters — most notably Lin, the strong female protagonist — this lush and luminous story combines exquisite splendor and fathomless cruelty as it champions the power of art and the resilience of the human spirit. While the plot comes full circle, it appears that the adventure is only beginning." – RT Book Reviews
or
Not Currently Available for Direct Purchase