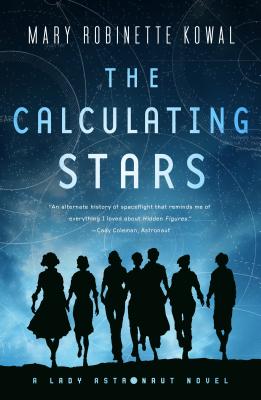 The Calculating Stars (Paperback)
A Lady Astronaut Novel
Tor Books, 9780765378385, 432pp.
Publication Date: July 3, 2018
Other Editions of This Title:
MP3 CD (9/25/2018)
* Individual store prices may vary.
Description
Mary Robinette Kowal's science fiction debut, 2019 Winner of the Hugo and Nebula Award for best novel, The Calculating Stars, explores the premise behind her award-winning "Lady Astronaut of Mars."

Winner 2018 Nebula Award for Best Novel
Winner 2019 Locus Award for Best Novel
Winner 2019 Hugo Award for Best Novel
Finalist 2019 Campbell Memorial Award

Locus Trade Paperback Bestseller List

Publishers Weekly Best Books of 2018—Science Fiction/Fantasy
Winner 2019 RUSA Reading List for Science Fiction—American Library Association
Locus 2018 Recommended Reading List

Buzzfeed—17 Science-Fiction Novels By Women That Are Out Of This World

Locus Bestseller List

Chicago Review of Books—Top 10 Science Fiction Books of 2018
Goodreads—Most Popular Books Published in July 2018 (#66)
The Verge—12 fantastic science fiction and fantasy novels for July 2018
Unbound Worlds—Best SciFi and Fantasy Books of July 2018
Den of Geek—Best Science Fiction Books of June 2018
Publishers Weekly—Best SFF Books of 2018
Omnivoracious—15 Highly Anticipated SFF Reads for Summer 2018
Past Magazine—Best Novels of 2018
Bookriot—Best Science Fiction Books of 2018
The Library Thing—Top Five Books of 2018

On a cold spring night in 1952, a huge meteorite fell to earth and obliterated much of the east coast of the United States, including Washington D.C. The ensuing climate cataclysm will soon render the earth inhospitable for humanity, as the last such meteorite did for the dinosaurs. This looming threat calls for a radically accelerated effort to colonize space, and requires a much larger share of humanity to take part in the process.

Elma York's experience as a WASP pilot and mathematician earns her a place in the International Aerospace Coalition's attempts to put man on the moon, as a calculator. But with so many skilled and experienced women pilots and scientists involved with the program, it doesn't take long before Elma begins to wonder why they can't go into space, too.

Elma's drive to become the first Lady Astronaut is so strong that even the most dearly held conventions of society may not stand a chance against her.
About the Author
MARY ROBINETTE KOWAL was the 2008 recipient of the John W. Campbell Award for Best New Writer and a Hugo winner for her story "For Want of a Nail." Her short fiction has appeared in Strange Horizons, Asimov's, and several Year's Best anthologies. She also writes the Glamourist History series, which began with Shades of Milk and Honey. A professional puppeteer and voice actor, she spent five years touring nationally with puppet theaters. She lives in Chicago with her husband Rob and many manual typewriters.
Praise For The Calculating Stars: A Lady Astronaut Novel…
Praise for The Calculating Stars

"This is what NASA never had, a heroine with attitude."—The Wall Street Journal

"In The Calculating Stars, Mary Robinette Kowal imagines an alternate history of spaceflight that reminds me of everything I loved about Hidden Figures."—Cady Coleman, Astronaut

"The Lady Astronaut series might be set in an alternate past, but they're cutting-edge SF novels that speak volumes about the present."—The Verge

"Fans of [Hidden Figures] will definitely find something to like in this novel."—SF Revu

"Readers will thrill to the story of this "lady astronaut" and eagerly anticipate the promised sequels."—Publishers Weekly (starred review)

"Kowal's book was revelatory for me, because here is a version of history where men eventually, finally, listen to women."—Tor.com

"If you like: lady scientists and lady astronauts, space science, lovely romance, the historical fight for equality, if you read or watched Hidden Figures and loved it, if you watched the Netlfix's documentary Mercury 13 (about the very real 13 women who underwent secret testing to become Astronauts in the 60s), please don't miss this one."—Kirkus

"A fine balance of integrating historical accuracy—including mid-twentieth-century sexism, racism, and technology—with speculative storytelling."—Booklist

"Readers will be hooked."—Library Journal

"Kowal has produced a novel that sheds light on how we can build a better future."—Escapist Magazine

"I couldn't put this paperback down, and I was mad at everything that kept me away from it."—While Reading and Walking

"This is a book about fortitude, about preservation, and strength in the face of injustice, resilience as a flag against oppression and politics. Parts of this book makes me cry. I cry in rage, in defiance, in support, and in triumph."—Utopia State of Mind

"An engrossing alternate history with a unique point of view, The Fated Sky dramatically demonstrates the technical problems with going to Mars—but the technical problems are the not the only ones. Never backing down from vital issues of race and gender, The Fated Sky confronts the human issues of space travel in a United States made increasingly desperate by a massive meteor strike. Plausible, convincing, and ultimately moving."—Nancy Kress, author of the Hugo Award-winning "Yesterday's Kin"