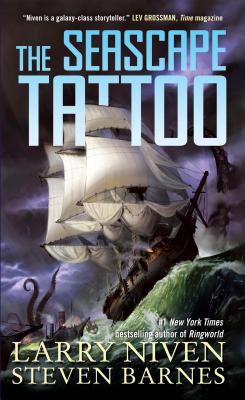 The Seascape Tattoo (Mass Market Paperbound)
Tor Books, 9780765378743, 352pp.
Publication Date: May 2, 2017
Description
Mortal enemies unite in this latest adventure yarn from masters of the genre Larry Niven and Steven Barnes in The Seascape Tattoo.
Aros of Azteca and Neoloth-Pteor are the deadliest of enemies: Swordsman and Sorcerer, locked in the ancient battle between wizards and warriors for fifteen years. They have tried to kill each other more times than either can count.
But when the princess Neoloth loves is kidnapped, there is only one plan that offers any hope of rescue...and that requires passing off the barbarian Aros as a lost princeling and infiltrating the deadliest cabal of necromancers the world has ever seen. Aros and Neoloth must join forces to save the innocent princess and prevent the most powerful and diabolical spell ever created from destroying their world.
They can't trust each other. They will betray or kill one another the first chance they get. But each is all the other has.
About the Author
LARRY NIVEN is the New York Times bestselling author of the Ringworld series, along with many other science fiction masterpieces, and fantasy including the Magic Goes Away series. He has received the Science Fiction Grand Master Award, the Nebula Award, five Hugos, and four Locus Awards, among other honors.STEVEN BARNES is the author of more than thirty novels, several of them science fiction classics. His first collaboration with Larry Niven, The Locusts, was nominated for the 1980 Hugo award.
Advertisement