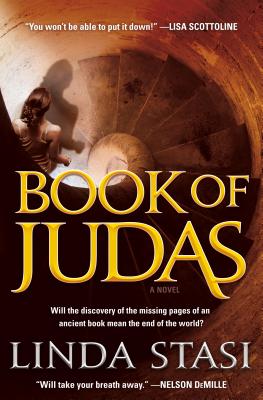 Book of Judas (Hardcover)
A Novel (Alessandra Russo Novels #2)
Forge Books, 9780765378750, 384pp.
Publication Date: September 19, 2017
Other Editions of This Title:
Mass Market (6/26/2018)
MP3 CD (4/10/2018)
* Individual store prices may vary.
Description
From hard-hitting New York Daily News columnist Linda Stasi comes Book of Judas, a riveting religious thriller featuring beloved protagonist Alessandra Russo.
When her infant son is placed in mortal danger, New York City reporter Alessandra Russo is forced to save him by tracking down the missing pages of the Gospel of Judas, a heretical manuscript that was unearthed in Al-Minya, Egypt, in the 1970s. The manuscript declares that Judas was the beloved, not the betrayer, of Jesus.
The Gospel disappeared for decades before being rediscovered, rotted beyond repair, in a safety deposit box. Rumors insist that the most important pages had been stolen—pages that Alessandra now must find, if they even exist.
Do the lost pages contain a secret that will challenge Christianity's core beliefs about the creation of life, or that might hold the power to unleash Armageddon? What if such explosive documents fell into the hands of modern-day terrorists, dictators, or religious fanatics?
Alessandra plunges into a dark world of murder, conspiracy, and sexual depravity...and most importantly, a race against the clock to save her own child.
In this exciting follow-up to The Sixth Station, award-winning journalist Linda Stasi brings her formidable investigative skills, big city street smarts, and fast-flying pen to a thriller that will leave readers breathless.
About the Author
LINDA STASI, the popular and well-read columnist for the New York Daily News, and previously for the New York Post, is also an on-camera TV co-host with Mark Simone on NY 1 -Spectrum "What a Week!"
Brash, funny and opinionated, the acerbic Stasi's first novel, The Sixth Station, published in January of 2013 by Forge Books, hit Amazon's top 25 and was hailed as, "A helluva religious thriller," by Nelson DeMille, while Steve Berry said, "You'll be grabbing the pages so tight your knuckles will turn white!" Booklist said of the book, "Dan Brown and Steve Berry fans have another controversial novel in which to lose themselves." For The Sixth Station, Stasi was selected as a finalist for the Mary Higgins Clark Award.
Stasi's anxiously awaited sequel, Book of Judas, has received acclaim from mega bestselling authors such as Sherrilyn Kenyon, who calls it, "An innovative masterpiece!"
Stasi has appeared on TV talk shows and news channels such as The Today Show, Good Morning America, The O'Reilly Factor, Hardball, Good Day New York, and The View, as well as CNN, Fox News, MSNBC news shows, and many others.
She is a regular guest on iHeartRadio's nationally broadcast Mark Simone Show, Boston's "Matty In The Morning," and countless others around the country.
Stasi has also authored the non-fiction books – Looking Good Is the Best Revenge, A Field Guide to Impossible Men, Simply Beautiful, Boomer Babes, and Scotto Sunday Suppers.
Not afraid to say what's on her mind in her popular Wednesdays and full-page Sunday columns in the New York Daily News, her readership has reached more than 600,000 in a single day.
She was named "One of the Fifty Most Powerful Women in NYC" and has won numerous awards including Best Columnist by the Newswomen's Club of NY, Best Humor Columnist, and Woman of the Year by the Boys Town of Italy for her charitable work such as driving a tractor-trailer in an 18-truck convoy from NYC to the gulf states with relief supplies for Hurricane Katrina victims.
Praise For Book of Judas: A Novel (Alessandra Russo Novels #2)…
"Every once in a while I read a book that transcends and redefines the genre. Book of Judas is that book. This is a religious thriller in the vein of Dan Brown and Steve Berry . . . Researched with the skill of a Biblical scholar and written with the craft of a great storyteller. Fast paced without sacrificing strong character development, Book of Judas will take your breath away." —Nelson DeMille
"Linda Stasi is a modern-day Damon Runyon, and her heroine, reporter Alessandra Russo, is a veritable force of nature, by turns witty, gutsy, and as a mother, surprisingly tender. You won't be able to put down Book of Judas, and you'll root for Russo through this gritty, breakneck thriller as she stops at nothing to save her kidnapped baby boy, encountering old lovers, ancient Roman coins,and a sacred relic of Judas, against a vivid backdrop worthy of The Da Vinci Code." —Lisa Scottoline
"A foreboding read that's addictive, menacing, and thrilling. Linda Stasi has her game on with this one." —Steve Berry
"One of the most gripping, thrilling and original tales I've read in decades! An innovative masterpiece that left me gasping for air and racing through to see how it ended. Linda Stasi is a master storyteller for the ages." —Sherrilyn Kenyon
"Linda Stasi's Book of Judas is the kind of novel that makes you anxious to be done with all else—so that you can go and read! A stay-up-all-night page-turner, a novel rich in plot and characterization and every other little known and unknown ingredient that creates a great thriller."—Heather Graham
"Another stunning thriller from the pen of Linda Stasi . . . don't expect to put it down till you race to the explosive ending." —Linda Fairstein
"A finely tuned, beautifully constructed thriller that would make Steve Berry and James Rollins proud." —Providence Journal
"Stasi could literally write four hundred pages of dialogue and it'd be better than two-thirds of the thrillers out there. She's that good." —The Real Book Spy
or
Not Currently Available for Direct Purchase