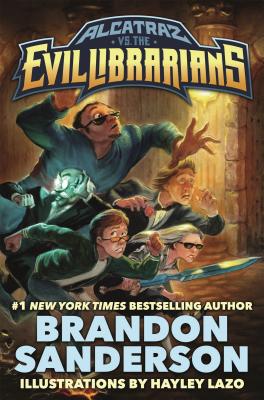 Alcatraz vs. the Evil Librarians (Alcatraz Versus the Evil Librarians #1) (Hardcover)
Starscape, 9780765378941, 320pp.
Publication Date: February 16, 2016
Other Editions of This Title:
Digital Audiobook (7/28/2011)
Mass Market Paperback (11/1/2008)
Hardcover (10/1/2007)
Compact Disc (10/1/2007)
Paperback (8/1/2011)
Pre-Recorded Audio Player (11/1/2007)
* Individual store prices may vary.
Description
Alcatraz vs. the Evil Librarians is the first action-packed fantasy adventure in the Alcatraz vs. the Evil Librarians series for young readers by the #1 New York Times bestselling author Brandon Sanderson. These fast-paced and funny novels are now available in deluxe hardcover editions illustrated by Hayley Lazo.

On his thirteenth birthday, foster child Alcatraz Smedry gets a bag of sand in the mail-his only inheritance from his father and mother. He soon learns that this is no ordinary bag of sand. It is quickly stolen by the cult of evil Librarians who are taking over the world by spreading misinformation and suppressing truth. Alcatraz must stop them, using the only weapon he has: an incredible talent for breaking things.

"In this original, hysterical homage to fantasy literature, Sanderson's first novel for youth recalls the best in Artemis Fowl and A Series of Unfortunate Events." -VOYA
About the Author
Brandon Sanderson grew up in Lincoln, Nebraska. He lives in Utah with his wife and children and teaches creative writing at Brigham Young University. He is the author of such bestsellers as the Mistborn® trilogy and its sequels, The Alloy of Law, Shadows of Self, and The Bands of Mourning; the Stormlight Archive novels The Way of Kings and Words of Radiance; and other novels, including The Rithmatist and Steelheart. In 2013, he won a Hugo Award for Best Novella for The Emperor's Soul, set in the world of his acclaimed first novel, Elantris. Additionally, he was chosen to complete Robert Jordan's Wheel of Time® sequence.

Hayley Lazo is the interior illustrator of the Alcatraz vs. the Evil Librarians series by Brandon Sanderson.
Praise For Alcatraz vs. the Evil Librarians (Alcatraz Versus the Evil Librarians #1)…
"This is an excellent choice to read aloud to the whole family. It's funny, exciting, and briskly paced. Best of all, the message it gives young readers is that a person's flaws-being late, breaking things, etc.-can sometimes turn into useful talents." —Nancy Pearl on NPR'S Morning Edition

"A happily action-packed romp, with just the right amount of repartee between Alcatraz and his cantankerous teenage protector Bastille, and a cliffhanger ending that promises more of the same. Plus dinosaurs in tweed vests. Who could ask for more?" —Horn Book

"In this original, hysterical homage to fantasy literature, Sanderson's first novel for youth recalls the best in Artemis Fowl and A Series of Unfortunate Events." —VOYA