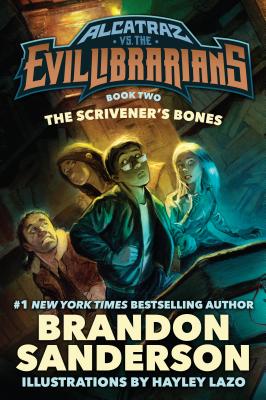 The Scrivener's Bones (Hardcover)
Alcatraz vs. the Evil Librarians (Alcatraz Versus the Evil Librarians #2)
Starscape, 9780765378965, 368pp.
Publication Date: February 16, 2016
* Individual store prices may vary.
Description
The Scrivener's Bones is the second action-packed fantasy adventure in the Alcatraz vs. the Evil Librarians series for young readers by the #1 New York Times bestselling author Brandon Sanderson. These fast-paced and funny novels are now available in deluxe hardcover editions illustrated by Hayley Lazo.
In his second skirmish against the Evil Librarians who rule the world, Alcatraz and his ragtag crew of freedom fighters track Grandpa Smedry to the ancient and mysterious Library of Alexandria. Hushlanders—people who live in the Librarian-controlled lands of Canada, Europe, and the Americas—believe the Library was destroyed long ago. Free Kingdomers know the truth: the Library of Alexandria is still around, and it's one of the most dangerous places on the planet. For it is the home of the scariest Librarians of them all: a secret sect of soul-stealing Scriveners. Can Alcatraz and his friends rescue Grandpa Smedry and make it out of there alive?
"In this original, hysterical homage to fantasy literature, Sanderson's first novel for youth recalls the best in Artemis Fowl and A Series of Unfortunate Events." —VOYA
About the Author
Brandon Sanderson grew up in Lincoln, Nebraska. He lives in Utah with his wife and children and teaches creative writing at Brigham Young University. He is the author of such bestsellers as the Mistborn® trilogy and its sequels, The Alloy of Law, Shadows of Self, and The Bands of Mourning; the Stormlight Archive novels The Way of Kings and Words of Radiance; and other novels, including The Rithmatist and Steelheart. In 2013, he won a Hugo Award for Best Novella for The Emperor's Soul, set in the world of his acclaimed first novel, Elantris. Additionally, he was chosen to complete Robert Jordan's Wheel of Time® sequence.
Praise For The Scrivener's Bones: Alcatraz vs. the Evil Librarians (Alcatraz Versus the Evil Librarians #2)…
"Alcatraz Smedry is back, and the action is just as nonstop, the librarians are just as evil, and the quips and asides (and outright lies) that the author insists on inflicting upon readers are just as omnipresent…. They will appreciate Sanderson's cheerful sarcastic wit and none-too-subtle digs at librarians." - School Library Journal