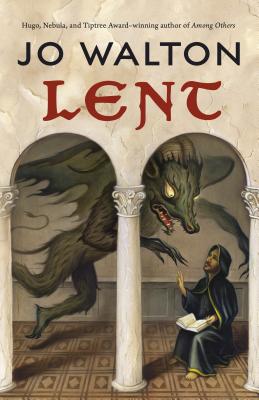 Lent (Hardcover)
A Novel of Many Returns
Tor Books, 9780765379061, 384pp.
Publication Date: May 28, 2019
Other Editions of This Title:
Paperback (2/4/2020)
* Individual store prices may vary.
Description
From Hugo, Nebula, and World Fantasy Award-winning Jo Walton comes Lent, a magical re-imagining of the man who remade fifteenth-century Florence—in all its astonishing strangeness

Young Girolamo's life is a series of miracles.

It's a miracle that he can see demons, plain as day, and that he can cast them out with the force of his will. It's a miracle that he's friends with Pico della Mirandola, the Count of Concordia. It's a miracle that when Girolamo visits the deathbed of Lorenzo "the Magnificent," the dying Medici is wreathed in celestial light, a surprise to everyone, Lorenzo included. It's a miracle that when Charles VIII of France invades northern Italy, Girolamo meets him in the field, and convinces him to not only spare Florence but also protect it. It's a miracle than whenever Girolamo preaches, crowds swoon. It's a miracle that, despite the Pope's determination to bring young Girolamo to heel, he's still on the loose…and, now, running Florence in all but name.

That's only the beginning. Because Girolamo Savanarola is not who—or what—he thinks he is. He will discover the truth about himself at the most startling possible time. And this will be only the beginning of his many lives.

"Rendered with Walton's usual power and beauty...It's this haunting character complexity that ultimately holds the reader captive to the tale." —N. K. Jemisin, New York Times, on My Real Children

About the Author
Jo Walton won the John W. Campbell Award for Best New Writer on publication of her debut novel The King's Peace. She won the World Fantasy Award in 2004 for Tooth and Claw, and in 2012, the Hugo and Nebula Awards for Among Others. In addition to writing SF and fantasy, she has also designed role-playing games and published poetry. Her song "The Lurkers Support Me In Email" has been quoted innumerable times in online discussions all over the world, frequently without attribution. A native of Wales, she lives in Montreal.
Praise For Lent: A Novel of Many Returns…
"By itself, a fascinating meditation on the choices which alter lives and the course of history; in the context of Walton's other novels, positively mind-bending."—Kirkus, starred review

"Fantasy doing with beautiful assurance what straight historical fiction can't, putting us right inside the gorgeous idea-thrilled, demon-haunted imaginarium of the Renaissance—and making the best case for Savonarola in about 500 years."—Francis Spufford, Costa Award-winning author of Golden Hill, on Lent

"Brilliant, compelling, and frankly unputdownable." —NPR on The Just City

"Rendered with Walton's usual power and beauty...It's this haunting character complexity that ultimately holds the reader captive to the tale." —N. K. Jemisin, New York Times, on My Real Children

"Has as much in common with an Alice Munro story as it does with, say, Philip K. Dick's The Man in the High Castle." —Lev Grossman, Publishers Weekly, on My Real Children

"Walton shines, as she always does, in the small and hurtful and glorious business of interpersonal relationships...this book about philosophy, history, gender and freedom also manages to be a spectacular coming-of-age tale that encompasses everything from courtroom dramas to sexual intrigue." —Cory Doctorow, Boing Boing on The Just City

"A remarkable novel of ideas...Superb. In the end, the novel does more than justice to the idea of the Just City." —Booklist, starred review, on The Just City