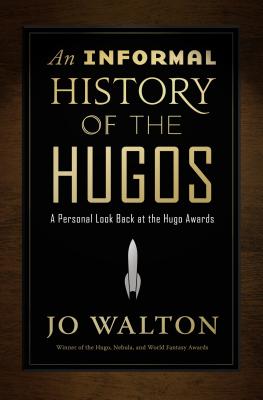 An Informal History of the Hugos (Hardcover)
A Personal Look Back at the Hugo Awards, 1953-2000
Tor Books, 9780765379085, 576pp.
Publication Date: August 7, 2018
* Individual store prices may vary.
Description
Engaged, passionate, and consistently entertaining, An Informal History of the Hugos is a book about the renowned science fiction award for the many who enjoyed Jo Walton's previous collection of writing from Tor.com, the Locus Award-winning What Makes This Book So Great.
The Hugo Awards, named after pioneer science-fiction publisher Hugo Gernsback, and voted on by members of the World Science Fiction Society, have been presented since 1953. They are widely considered the most prestigious awards in science fiction.
Between 2010 and 2013, Jo Walton wrote a series of posts for Tor.com, surveying the Hugo finalists and winners from the award's inception up to the year 2000. Her contention was that each year's full set of finalists generally tells a meaningful story about the state of science fiction at that time.
Walton's cheerfully opinionated and vastly well-informed posts provoked valuable conversation among the field's historians. Now these posts, lightly revised, have been gathered into this book, along with a small selection of the comments posted by SF luminaries such as Rich Horton, Gardner Dozois, and David G. Hartwell.
"A remarkable guided tour through the field—a kind of nonfiction companion to Among Others. It's very good. It's great."—New York Times bestselling author Cory Doctorow, Boing Boing on What Makes This Book So Great
About the Author
Jo Walton won the John W. Campbell Award for Best New Writer on publication of her debut novel The King's Peace. She won the World Fantasy Award in 2004 for Tooth and Claw, and in 2012, the Hugo and Nebula Awards for Among Others. In addition to writing SF and fantasy, she has also designed role-playing games and published poetry. Her song "The Lurkers Support Me In Email" has been quoted innumerable times in online discussions all over the world, frequently without attribution. A native of Wales, she lives in Montreal.
Praise For An Informal History of the Hugos: A Personal Look Back at the Hugo Awards, 1953-2000…
"A remarkable guided tour through the field—a kind of nonfiction companion to Among Others. It's very good. It's great." —Cory Doctorow, Boing Boing, for Among Others
"This is certainly going to be a book that I'll go back to again and again." —Andrew Liptak, Kirkus Reviews, for What Makes This Book So Great
"There are the books you want to give all your friends, and there are the books you wish you could go back and give your younger self. And then there's the rare book, like Jo Walton's Among Others, that's both."—Charlie Jane Anders, io9, for Among Others
"Akin to a genre version of Nancy Pearl's Book Lust. Walton's affection for many of these titles is contagious, and fans will find their own reading lists growing." —Library Journal, starred review, for What Makes This Book So Great
"A well-informed and thoroughly engaging companion, especially for fans of contemporary SF." —Toronto Row, for What Makes This Book So Great
or
Not Currently Available for Direct Purchase