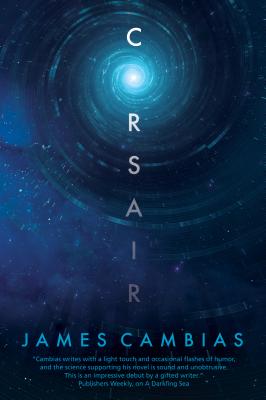 Corsair (Hardcover)
A Science Fiction Novel
Tor Books, 9780765379108, 336pp.
Publication Date: May 5, 2015
Other Editions of This Title:
Paperback (5/10/2016)
MP3 CD (5/31/2016)
* Individual store prices may vary.
Description
James L. Cambias, author of A Darkling Sea, now gives readers a thrilling near-future adventure of space pirates and computer hackers in Corsair
In the early 2020s, two young, genius computer hackers, Elizabeth Santiago and David Schwartz, meet at MIT and have a brief affair. David is amoral, out for himself, and soon disappears. Elizabeth dreams of technology and space travel and takes a military job after graduating. Ten years later, David works in the shadows for international thieves, and Elizabeth prevents international space piracy.
With robotic mining in space has become a lucrative part of the economy, and shipments from space are dropped down the gravity well into the oceans. David and Elizabeth fight for dominance of the computer systems controlling ore drop placement in international waters. Each one intuits that the other is their real competition but can't prove it. International piracy has very high stakes and some very evil players. And both Elizabeth and David end up in a world of trouble.
About the Author
James L. Cambias, the author of A Darkling Sea, has been nominated for the Nebula Award, the James Tiptree Jr. Award, and the 2001 John W. Campbell Award for Best New Writer. He lives in Western Massachusetts.
Praise For Corsair: A Science Fiction Novel…
"James L. Cambias' second novel, Corsair, earns a fistful of hyphenations: a near-future techno-thriller heist-caper with a sizable dose of hard-engineering space-stuff and maybe just a dash of cyberpunk. It all fits together so smoothly, though, that one hardly notices the joins and overlaps." —Locus online
"A potboiler that fans of Cambias' previous excellent work will wish to investigate." —Kirkus Reviews
"Thoroughly engaging characters; credible and comprehensible science; action in spades; romance; and humor throughout." —Bookloon
"Corsair" is a quick, fun read." –The Recorder
"After his acclaimed debut A Darkling Sea, James L. Cambias is one of the hottest names in sci-fi. And he delivers on that promise with his follow-up, the techno-thriller Corsair." –The Nameless Zine
"If Neal Stephenson is an entire operating system for a desktop iMac, James Cambias is a sleek app for your iPhone." —Paul Di Filippo for Locus
"An engaging nail-biter that is exciting, fun and a satisfying read." –The Qwillery
"Corsair is an exciting thriller. Fans of Tom Clancy and early Neal Stephenson will feel right at home." —SF Revu
"An entertaining, near-future adventure story from the author of A Darkling Sea." —Library Journal
or
Not Currently Available for Direct Purchase