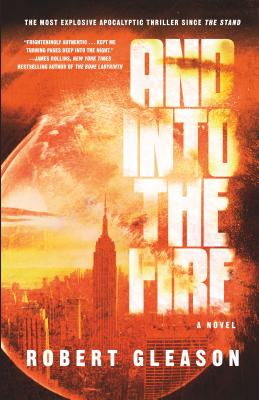 And Into the Fire (Hardcover)
A Novel
Forge Books, 9780765379160, 368pp.
Publication Date: June 6, 2017
* Individual store prices may vary.
Description
With an undeniable authority on the subject of all things nuclear, Robert Gleason brings readers' worst fears surrounding nuclear terrorism to life in this character-driven, page-turning thriller, And Into the Fire.
After allying itself with Pakistan's intelligence services and notorious terrorist group, the Tehrik-e-Taliban-Pakistan (TTP), ISIS is ready to achieve its ultimate dream: Forcing the US into a clash of civilizations in the Mideast. The best way to accomplish this mission is to acquire three Pakistani nukes—then set them off in three US cities.
The head of the CIA's Pakistan desk, Elena Moreno, and an intrepid journalist, Jules Meredith, are on their trail. Unfortunately, a powerful Saudi ambassador is blackmailing a corrupt American president, and now both men will do anything to stop these two women—to the point of having them killed. All the while, a notorious Pakistani terrorist, who twenty years ago was Elena's college lover, is leading a highly skilled, highly trained terrorist team into the US. They are armed with three Hiroshima-style nukes and are hell-bent on incinerating the three American cities.
Can the two women stop them? The clock is ticking.
About the Author
Robert Gleason, author of End of Days, has worked for 40 years in the New York book industry, where he has published many scientists, politicians and military experts. He starred in and hosted a two-hour History Channel special, largely devoted to nuclear terrorism and has discussed the subject on many national TV/radio talk shows, including Sean Hannity's and Lou Dobbs's TV shows and George Noory's Coast to Coast AM. He has also spoken on nuclear terrorism at major universities, including Harvard.
Praise For And Into the Fire: A Novel…
"Gleason is a bona fide expert on nuclear terrorism, and he utilizes his knowledge, along with his storytelling skills, to deliver a thriller that feels shockingly authentic. Military-action fans will relish this one as they shudder at its implications." --Booklist (starred review)
"A masterpiece . . . a crown jewel." --The Strand Magazine
"Robert Gleason's latest novel, And Into the Fire, is more than a spectacular thriller: it's essential reading. Apocalyptic, topical, and frighteningly authentic, here is a book that kept me turning pages deep into the night. Don't miss this cautionary and important tale of where the world is headed." —James Rollins, New York Times bestselling author of The Bone Labyrinth
"Gleason nails the complexities of a horrifying scenario, weaving a terrifying web on treason and danger, all steeped in pure fact. And that's what makes this book so scary. It actually could happen." --Steve Berry, New York Times bestselling author of The 14th Colony
"Just when we thought it was safe to dream again, Robert Gleason has pulled us back, kicking and screaming, to our collective nightmare: nuclear annihilation." --Nelson DeMille, #1 New York Times bestselling author of Radiant Angel
"A true master of apocalyptic fiction, Robert Gleason has written a gripping and frightening tale on how skillful terrorists could use stolen nuclear weapons on our own cities. His research is devastatingly detailed and shockingly realistic. We should be scared, all of us--very scared." —William S. Cohen, Former Secretary of Defense and New York Times bestselling author of Collision.
"Not only the most terrifying, but also the most realistic nuclear-terror scenario I have encountered, whether on the page or in the Pentagon. Robert Gleason's decades of deep research into the dark realms of nuclear energy and weapons have yielded a superb thriller that reads swiftly but lingers long in the imagination. A rich plot, compelling characters and energetic writing combine to make And Into the Fire's nuclear nightmare a blast (pun fully intended)! It's a gripping read--and a primer on nuclear terrorism." --Ralph Peters, three-time Boyd Award-winner, New York Times bestselling author of The Damned of Petersburg
"A rapid moving intricate plot that unfolds with twists and turns. The characters he developed are depicted in real life drama and keep the reader looking for secondary plots. Not only is the multiple scenario scheme of events possible they are probable. Robert Gleason verifies the realism with technocrat language and verifiable research." ---Richard Marcinko, New York Times Bestselling author of Rogue Warrior and founding father of SEAL Team SIX
"Bob Gleason knows how to tell a story relevant to our times. The plot is realistic and believable. Readers will find And Into The Fire a suspenseful, high stakes, high-octane thriller to be a page-turning must-read.
--Sid Shachnow, Major General, US Army (Retired), former head of all US Special Forces worldwide and author of the Colby Award winning memoir, Hope and Honor
"Gleason writes with undeniable authority on the threat of nuclear terrorism. His new book, And Into the Fire, is an eye-opening, hair-raising, up-all-night thriller that should be required reading for all Members of Congress." --Byron Dorgan, Former US Senator and New York Times bestselling author of Gridlock
"The nuclear genie is always trying to escape, which is scary enough. But what if it had help? Well-planned, well-funded help that means us no good at all. Bob Gleason tells such a story. It could happen, but hopefully never will." —Larry Bond, New York Times bestselling author of Fatal Thunder
"A recognized expert on nuclear terrorism, Robert Gleason takes readers on a thrilling and all-too-real journey to Armageddon. And Into the Fire should be required reading for the guardians of nuclear safety." --Ward Larsen, USA Today bestselling and award-winning author of Assassin's Code
"No writer I know can mingle human interest and global fears with the skill and intensity Gleason displays in his novels. And Into The Fire is simply unforgettable." --Thomas Fleming, winner of the Lincoln Prize for Lifetime Achievement in History, former president of PEN, New York Times bestselling author of The Illusion of Victory: America in World War I
"Nobody, nobody, can scare the hell out of you the way that Robert Gleason can, because he scares you with stuff that could actually happen . . . tomorrow! His monsters are real human beings, but fortunately, so are his heroes. And he has put them into a plot that unfolds with such speed, skill, and storytelling dexterity that you can't stop turning pages. You just know there's another world-changing scare waiting for you in the next scene. You'll stay awake all night finishing it, and you'll stay awake for weeks just thinking about the existential horror at the heart of this terrific thriller." —William Martin, New York Times bestselling author of The Lincoln Letter
Reviewer Praise for Robert Gleason's And Into the Fire
"Gleason is a bona fide expert on nuclear terrorism, and he utilizes his knowledge, along with his storytelling skills, to deliver a thriller that feels shockingly authentic. Military-action fans will relish this one as they shudder at its implications." --Booklist (starred review)
Praise for Robert Gleason's End of Days
"Gleason's work has made him an expert on all things apocalyptic, a subject he returns to with gusto in this wildly expansive tale of the Coming End Times . . . A thrilling take on a frighteningly possible future, one that makes the journey in Cormac McCarthy's The Road look like a stroll through the park." --Publisher's Weekly (starred review)
"A narrative knockout. Comparisons to THE STAND and SWAN SONG are well founded, but Gleason's novel is in a class by itself." --Booklist (starred review)
or
Not Currently Available for Direct Purchase