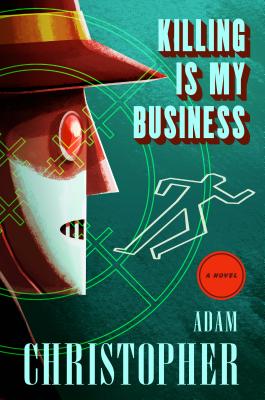 Killing Is My Business (Hardcover)
A Ray Electromatic Mystery (Ray Electromatic Mysteries #2)
Tor Books, 9780765379207, 288pp.
Publication Date: July 25, 2017
Other Editions of This Title:
Paperback (6/26/2018)
* Individual store prices may vary.
Description
"Robot noir in 60s Los Angeles? You had me at 'Hello.'" —John Scalzi, New York Times bestselling author
Another golden morning in a seedy town, and a new memory tape and assignment for intrepid PI-turned-hitman—and last robot left in working order—Raymond Electromatic. But his skills may be rustier than he remembered in Killing Is My Business, the second book in Adam Christopher's robot noir oeuvre, hot on the heels of the acclaimed Made to Kill.
"Gripping, funny, deadly and suspenseful." —Boing Boing on Made to Kill
"Effortlessly swift and clever." —NPR
Ray Electromatic Mysteries
Brisk Money
Made to Kill
Standard Hollywood Depravity
Killing is My Business
About the Author
Adam Christopher is a novelist and comic writer. In 2010, as an editor, Christopher won a Sir Julius Vogel award, New Zealand's highest science fiction honor. His debut novel, Empire State, was SciFiNow's Book of the Year and a Financial Times Book of the Year for 2012. In 2013, he was nominated for the Sir Julius Vogel award for Best New Talent, with Empire State shortlisted for Best Novel. His other novels include The Age Atomic and The Burning Dark.
Praise For Killing Is My Business: A Ray Electromatic Mystery (Ray Electromatic Mysteries #2)…
"Hits hard, spins your head around, and leaves you stunned. The Ray Electromatic mysteries are so freakin' perfect you'd think robot hitmen and retro supercomputers had always been part of noir fiction."—Peter Clines, author of Paradox Bound and The Fold, on Killing Is My Business

"Humor, action, and heart: everything I've come to expect from an Adam Christopher book, and then some. A marvelous read!"—New York Times bestseller Jason M. Hough, author of Zero World, on Killing Is My Business
"Delivers like a punch from a two-ton robot in a zoot suit."—Delilah Dawson on Killing Is My Business
"Atmospheric and charming as hell. Adam Christopher has an extraordinary talent for scooping you up and dropping you into an alternative LA that feels just as real as thestreet outside your house."—Emma Newman on Killing Is My Business
"While the fast-paced story will grab readers' attention, what they will stay for is Ray, whose unique perspective and personality shine as bright as his metal exterior."—Booklist on Killing Is My Business

Praise for the Ray Electromatic Mysteries:

"Robot noir in 60s Los Angeles? You had me at 'Hello.'"—John Scalzi, New York Times bestselling novelist
"Gripping, funny, deadly and suspenseful."—Boing Boing
"Delivers like a punch from a two-ton robot in a zoot suit."—Lila Bowen (aka Delilah Dawson)
"The dialogue is effortlessly swift and clever, and even the B-movie climax is a spectacle to behold. Above that, though, Ray sparks to live, and his antiheroic slant only makes him that much more compelling and sympathetic. Knowing that there are only two more Raymond Electromatic mysteries to come is the book's only disappointment."—NPR
"Genre mash-ups don't always succeed, but this one will please fans of both gumshoes and laser beams."—Publishers Weekly
"A fun, fast read for anyone willing to take the speculative leap--a must-add for most fiction collections."—Booklist (starred review)
"Made to Kill is yet more proof that we should all be thankful for Adam Christopher and his imagination. This tale of robot noir is unlike anything I've ever read—Adam's is a weird and wonderful voice and we are lucky to have it."—Chuck Wendig, New York Times bestselling author of Aftermath
"Adam Christopher has brilliantly deduced what should have been obvious all along: Classic noir and robots are a perfect match. Part Chandler, part Asimov, and part Philip K. Dick, Made to Kill is a rip-roaring cocktail of smart, sharp, twisty, cyber-pulp awesomeness."—Adam Sternbaugh, author of Shovel Ready
"Made to Kill is just the sort of exciting genre collision that marks out Adam Christopher as one of the hottest new young SF writers."—Paul Cornell, author of The Severed Streets
"A smart, rollicking noir/SF mashup. One of the best books I've read all year."—Kelly Braffet, author of Save Yourself
or
Not Currently Available for Direct Purchase