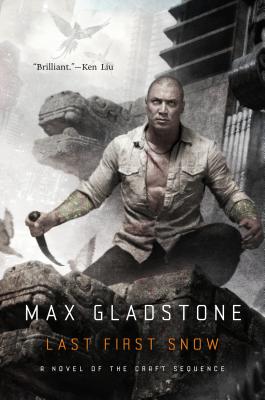 Last First Snow
A Novel of the Craft Sequence
Hardcover

* Individual store prices may vary.
Other Editions of This Title:
Paperback (4/26/2016)
MP3 CD (3/26/2019)
Compact Disc (3/26/2019)
Description
"Brilliant, elegant, epic, astonishing, smart, gritty…. another wondrous visit to the fantastic world of the Craft Sequence." —Ken Liu, author of The Grace of Kings
Max Gladstone's Craft Sequence chronicles the epic struggle to build a just society in a modern fantasy world.
Forty years after the God Wars, Dresediel Lex bears the scars of liberation-especially in the Skittersill, a poor district still bound by the fallen gods' decaying edicts. As long as the gods' wards last, they strangle development; when they fail, demons will be loosed upon the city. The King in Red hires Elayne Kevarian of the Craft firm Kelethres, Albrecht, and Ao to fix the wards, but the Skittersill's people have their own ideas. A protest rises against Elayne's work, led by Temoc, a warrior-priest turned community organizer who wants to build a peaceful future for his city, his wife, and his young son.
As Elayne drags Temoc and the King in Red to the bargaining table, old wounds reopen, old gods stir in their graves, civil blood breaks to new mutiny, and profiteers circle in the desert sky. Elayne and Temoc must fight conspiracy, dark magic, and their own demons to save the peace-or failing that, to save as many people as they can.
Set in a phenomenally built world in which lawyers ride lightning bolts, souls are currency, and cities are powered by the remains of fallen gods, Max Gladstone's Craft Sequence introduces readers to a modern fantasy landscape and an epic struggle to build a just society.
For more from Max Gladstone, check out:
The Craft Sequence
Three Parts Dead
Two Serpents Rise
Full Fathom Five
Last First Snow
Four Roads Cross
Praise For Last First Snow: A Novel of the Craft Sequence…
"Gladstone's gift for vivid storytelling, his deep empathy for his characters, his sly satire of current socioeconomic issues, and the rich, diverse world of his novels have become reliable pleasures, always enthralling and somehow consistently improving with every book." —Publishers Weekly (starred review)
"Entertaining and intelligent, Last First Snow will take fans of urban fantasy to exciting new territory. While not as easy for new readers to follow, the compelling tale at the center is worth the effort. Gladstone's worldbuilding is an intricate creation with all the modern trappings of today and combined with an action-packed adventure fantasy." —RT Book Reviews
"Brilliant, elegant, epic, astonishing, smart, gritty... Last First Snow is another wondrous visit to the fantastic world of the Craft Sequence.
" —Ken Liu, author of The Grace of Kings and translator of The Three Body Problem
"Elegant and ferocious, Last First Snow bursts with unrelenting urgency. It is a book that wraps us in its complex embrace while demanding we look more deeply at the changing world. Politics and protest violently converge in this full throttle race through the unruly streets of Dresediel Lex, and there is no flinching from difficult truths. This is Max Gladstone at his finest." —Daniel José Older, author of Half Resurrection Blues
"The Craft Sequence gets better with each volume. Max Gladstone gives us wonderfully relevant bits and pieces of the modern world, turned upside-down and inside-out and garnished with skeleton kings, serpent gods, and lawyer-magicians. It's glorious." —Django Wexler, author of The Thousand Names
"I'm having Max Gladstone killed. He's too good already to be allowed to live. If this is early work, the rest of us are out of a job." —Elizabeth Bear on Full Fathom Five
"Newcomers and fans of the series alike will enjoy the mystery, demon-caused mayhem and fast-moving plot in this stellar, engaging read." —RT Book Reviews, 4 ½ stars, on Two Serpents Rise.
"One of the best debut fantasy novels I've read in years. . . . An entertaining and intelligent story that's equal parts action-adventure, fantasy, culture clash, mystery, and courtroom drama." —io9 on Three Parts Dead
Tor Books, 9780765379405, 384pp.
Publication Date: July 14, 2015
About the Author
MAX GLADSTONE went to Yale, where he wrote a short story that became a finalist in the Writers of the Future competition. He is the author of Three Parts Dead and Two Serpents Rise. He lives in Boston, Massachusetts.