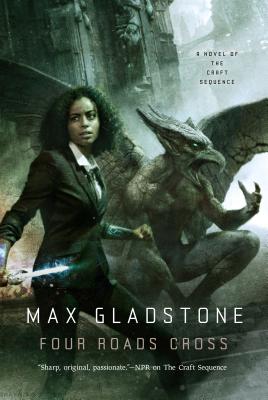 Four Roads Cross
A Novel of the Craft Sequence
Hardcover

* Individual store prices may vary.
Other Editions of This Title:
MP3 CD (8/6/2019)
Compact Disc (8/6/2019)
Description
"Sharp, original, passionate." —NPR

Max Gladstone's Craft Sequence chronicles the epic struggle to build a just society in a modern fantasy world.

The great city of Alt Coulumb is in crisis. The moon goddess Seril, long thought dead, is back--and the people of Alt Coulumb aren't happy. Protests rock the city, and Kos Everburning's creditors attempt a hostile takeover of the fire god's church. Tara Abernathy, the god's in-house Craftswoman, must defend the church against the world's fiercest necromantic firm--and against her old classmate, a rising star in the Craftwork world.

As if that weren't enough, Cat and Raz, supporting characters from Three Parts Dead, are back too, fighting monster pirates; skeleton kings drink frozen cocktails, defying several principles of anatomy; jails, hospitals, and temples are broken into and out of; choirs of flame sing over Alt Coulumb; demons pose significant problems; a farmers' market proves more important to world affairs than seems likely; doctors of theology strike back; Monk-Technician Abelard performs several miracles; The Rats! play Walsh's Place; and dragons give almost-helpful counsel.

Set in a phenomenally built world in which lawyers ride lightning bolts, souls are currency, and cities are powered by the remains of fallen gods, Max Gladstone's Craft Sequence introduces readers to a modern fantasy landscape and an epic struggle to build a just society.


For more from Max Gladstone, check out:

The Craft Sequence
Three Parts Dead
Two Serpents Rise
Full Fathom Five
Last First Snow
Four Roads Cross
Praise For Four Roads Cross: A Novel of the Craft Sequence…
"Enthralling." —Publishers Weekly, starred review, on Last First Snow

"Elegant and ferocious." —Daniel José Older, author of Half Resurrection Blues, on Last First Snow

"Brilliant, elegant, epic, astonishing, smart, gritty…. Last First Snow is another wondrous visit to the fantastic world of the Craft Sequence." —Ken Liu, author of The Grace of Kings

"Gladstone gives us wonderfully relevant bits and pieces of the modern world, turned upside-down and inside-out and garnished with skeleton kings, serpent gods, and lawyer-magicians. It's glorious." —Django Wexler, author of The Thousand Names, on Last First Snow

"I'm having Max Gladstone killed. He's too good already to be allowed to live. If this is early work, the rest of us are out of a job." —Elizabeth Bear on Full Fathom Five

"Gladstone packs more ideas into a chapter than most writers manage in a full novel." —Brian Staveley on Full Fathom Five

"Newcomers and fans of the series alike will enjoy the mystery, demon-caused mayhem and fast-moving plot in this stellar, engaging read." —RT Book Reviews, 4 ½ stars, on Two Serpents Rise
Tor Books, 9780765379429, 416pp.
Publication Date: July 26, 2016
About the Author
MAX GLADSTONE (he/him) is a fencer, a fiddler, and the winner of the Hugo and Nebula Awards for This is How You Lose the Time War, co-written with Amal El-Mohtar. A two-time finalist for the John W. Campbell Award, he is fluent in Mandarin and has taught English in China. He is also the author of the Craft Sequence of novels--a Hugo Award finalist, a game developer, and the showrunner for the fiction serial, Bookburners. Max lives and writes in Somerville, Massachusetts.
or
Not Currently Available for Direct Purchase